We're facing a serious problem right now.
Every few months, companies like Apple, Samsung, and Huawei introduce new, updated phones for their customers. These new devices promise better features, bigger battery lives, and countless other essential benefits. Tech enthusiasts are often keen to jump to the latest product as quickly as possible. That means the world is overflowing with electronic waste.
Statista tells us that electronic waste, or e-waste, is having a massive impact on our environment. Only around 20% of consumers properly recycle their unwanted phones and devices.
So, how do we overcome this problem?
Well, you could learn how to dispose of your old devices properly. Or you could check out one of the many "we buy phones" services available today.
Selling your phone is a much more environmentally friendly alternative to dumping it in a landfill. Plus, you can make some of your hard-earned money back too.
Today, we're going to review one of the top-rated phone cash machines around EcoATM.
What is EcoATM?
EcoATM is an intelligent take on the popular concept of selling your old phones and devices for extra cash. Rather than sending your products to a company through the mail, you visit dedicated phone machines, similar in style to an ATM, or a mall kiosk for phone accessories.
EcoATM aims to provide a simple way for customers to recycle unwanted devices and make some bonus money in return. While you might not get the best price for your old phone, EcoATM reviews often highlight how convenient the kiosks are to use.
You might have seen an Eco phone kiosk in Walmart already.
EcoATM provides an alternative to the traditional ways of selling your phone.
With a kiosk in your local Walmart, you don't need to worry about listing your product online and finding a local seller. There's also no need to fill out any envelopes and send your devices to companies in the mail.
EcoATM hopes that the simplicity of being able to sell your phone instantly will encourage more customers to recycle, even if it means taking a hit on the price you get for your device.
How Does EcoATM Work?
So, how does the service work?
The EcoATM phone kiosk in Walmart is a more intelligent machine than you may think. The first step is to find one of these phone machines. You can do this by typing "Phone kiosk Walmart near me" into Google or visiting the EcoATM website.
The site has a map where you can see the closest machine to you. Once you've found a location, place your device in the EcoATM kiosk. You can remove your phone and cancel the sales process at any time.
Hook your phone up to the available charging cable provided by EcoATM before you place it inside of the machine.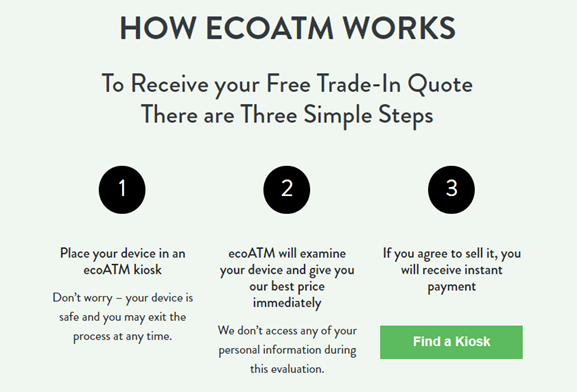 The machine will then assess your device, find out what kind of smartphone you have, what condition It's in, and how much it's worth. You may need to give your driver's license to prove your identity.
After evaluating your product, the used phone kiosk in Walmart will offer you a price and print out a sticker that acts as an identifier for your phone. If you decide to sell your product, you can place the phone into the mouth of the machine, and the kiosk will give you your money instantly.
There are two ways to receive payment from the EcoATM, the first is to get a PayPal payment, or you can get a bank transfer if you prefer.
If you decide to accept the offer, you will need to remove all personal data from your phone first.
EcoATM Review: Is it Easy to Use?
The main selling point of the kiosk phone purchasing system from EcoATM, is its convenience. The EcoATM brand operates kiosks all over the world. Even if you don't have a Walmart near you, you may still be able to find a machine.
The EcoATM team hopes to encourage more e-waste recycling by making it quick and easy to exchange your phone for cash. However, the company's environmentally-friendly mission does mean that you're less likely to get a great price for your device.
Finding a kiosk phone machine is simple enough. Just type "kiosk phone machine near me" into Google, or check some of your local stores and malls for the eye-catching green ATM. You can also check the Find a Kiosk section on the ATM website.
Before you go to sell your device, remember to:
Charge the battery: The machine will need to check your phone is working. There's usually a charging cable provided in the kiosk, but it's best to have a little bit of a charge before you get to the machine.
Back up your data: EcoATM will require you to remove all your data from your device before selling it. Download the photos you can't live without and transfer contacts to your new phone before you go to sell anything.
Remove your SIM card: Although your Sim card might not contain much personal data about you, it's best to remove it anyway.
Reset your phone: Ideally, you'll want to return your phone to factory settings before selling it. This will ensure that no personal information remains lingering on your device.
Clean the surface: The EcoATM machine scans the surface of your phone to check for damage. Fingerprints, lint, and dirt could show up as scratches and chips, reducing the price you get.
Once you've prepared for your EcoATM sale, handing over your phone is easy. It only takes a few moments to complete your sale, and you can get your cash immediately.
Another bonus is that you aren't locked into anything. Your sale won't be complete until you agree to the price, sign the paperwork, and get your money. You can cancel the transaction and walk away with your phone whenever you like.
The Benefits of Using the Walmart Phone Kiosk
Using a cell phone Kiosk in Walmart to sell your device is obviously much more convenient than trying to sell a product on eBay or to a third-party company. Although you can easily sell your phone elsewhere, EcoATM reviews praise the speed of this method.
You also get the benefit of knowing that you're doing something good for the planet when you sell with EcoATM. The majority of the devices the company receive are reused. Basically, this means you don't have to worry about your electronics ending up in landfills.
Consumer electronics might be great – but they also contain a lot of highly toxic materials like mercury, cadmium, arsenic, and lead. Recycling is the best way to protect the planet. EcoATM even teams up with repair stores to sell them cases, batteries, screens, and wires. Nothing gets wasted.
Another major benefit of EcoATM is how easy it is to find what you need. If you look at the EcoATM reviews from 2019 and 2020, the presence of these machines is growing worldwide. What's more, because you can find a sell your phone kiosk in Walmart and other stores you use every day, the process feels much safer.
The Problems with the Phone Machines in Walmart
With a kiosk for phones in major cities around the world, it's hard to see any drawbacks to using EcoATM – at least at first. Unfortunately, a phone cash machine won't be the right option for everyone looking to recycle their old device.
If you look at the EcoATM reviews for the app on Google Play and the App store, you'll notice that there are a lot of negative reviews. Although the EcoATM customer service team try to resolve problems as quickly ass possible, you may struggle with the sale.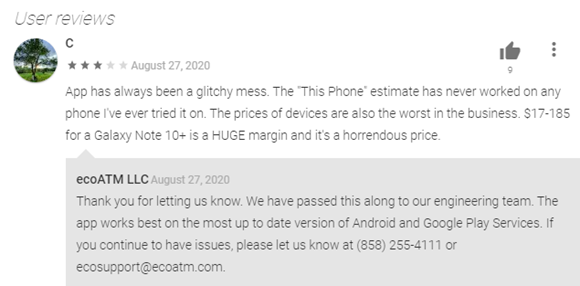 The EcoATM app helps you to find a kiosk near you and estimate the price you'll get for your device. However, most users find themselves struggling with malfunctioning apps that can't provide accurate information.
On top of that, the EcoATM kiosks themselves aren't perfect either. Malfunctioning card readers are a common problem with these Walmart phone machines. Some EcoATM reviews also suggest that the scanner within the machine can't accurately detect the condition of a phone. If the scanner sees your phone as damaged, then you won't get a good quote.
Although a cell phone cash machine is a convenient idea, there are a lot of challenges to overcome too. Broken technology means that you could find yourself unable to recover your phone if you decide not to accept the machine's quote. Law enforcement officials also worry that these machines might be magnets for crime too.
EcoATM Review: Do You Get a Good Deal?
The biggest issue that most people have with the EcoATM machine, is how much they can actually get for their old smartphone. Remember, the EcoATM kiosk for phones is all about encouraging recycling through convenience. This company isn't going to give you the best price.
The phone kiosk in Walmart hopes that you'll accept a lower quote for your device in exchange for saving some time on the sale. Unfortunately, the gap between the quote you get, and the value of your phone is often much larger than you'd expect.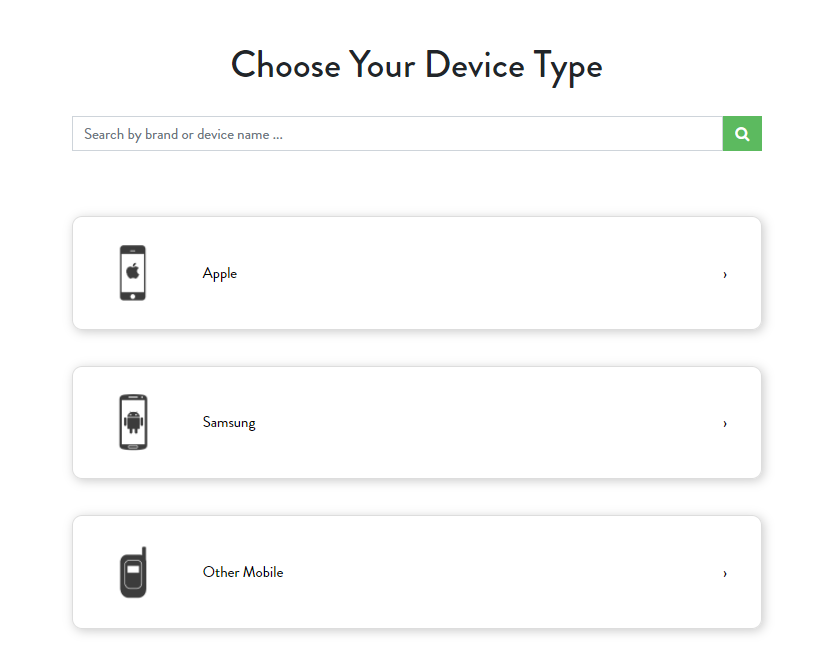 The online world is full of angry reviews from customers who say that they haven't received an accurate price for their phones. If you're thinking of trading in a more recent phone, you could lose hundreds of dollars on a phone. The more expensive your phone the less we'd recommend EcoATM as a trade-in option.
So, how much can you earn from a phone kiosk at Walmart?
This depends on a number of factors including your phone's condition. The EcoATM kiosk for phones separates devices into the following categories:
Unlocked but can't turn on
Unlocked with cracks
Unlocked with scratches
Locked and working
Unlocked and working
A phone that's unlocked and working will generate the highest quote. However, even then the price you get is severely limited. For some devices, EcoATM may offer less than half of what your phone is worth. You'll get the money instantly, but you'll be missing a chunk of the value.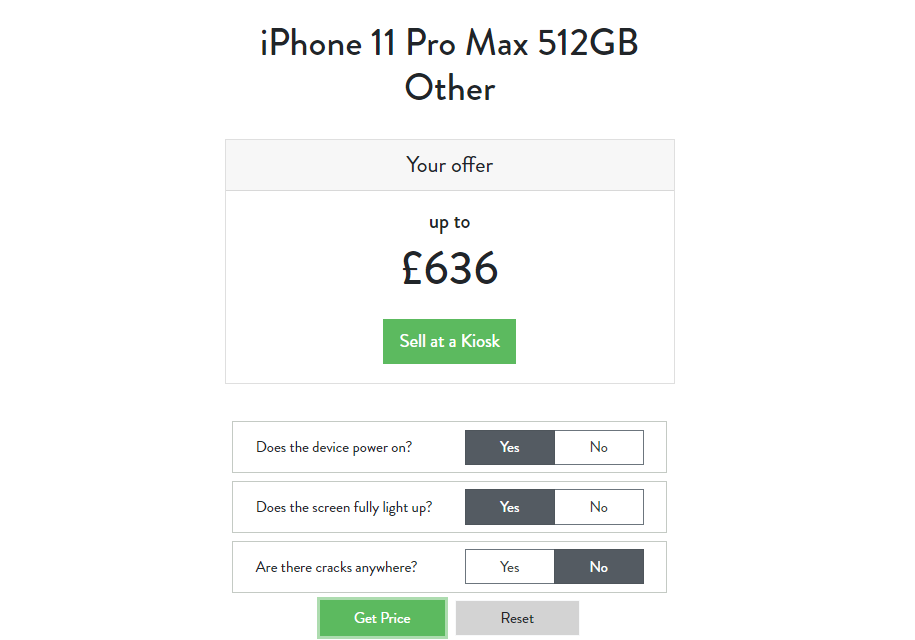 In some cases, if your product is too damaged, or old enough that the EcoATM machine doesn't assign it any value, you won't be offered a price at all. However, you can still recycle your device to get rid of it safely.
What to Do Before Using EcoATM
If you're keen to try your hand at using a buy phone machine in Walmart, it's important to be prepared. Although the EcoATM kiosk for phones is a convenient way to sell your devices fast – it's also unlikely to give you the true value of your phone. You'll also need to make sure that you prepare your device properly to improve your chances of a good quote.
Preparing properly to use the phone machines at Walmart will protect your personal identity, your time, and your hard-earned cash. Here are some top tips.
Assess the Condition
As mentioned above, the Walmart phone kiosk will offer a price for your device based on the condition of your phone. Any damage in the form of scratches or chips will immediately detract from the price you can get. Problems with your software, or issues with switching the phone on also reduce the quote significantly.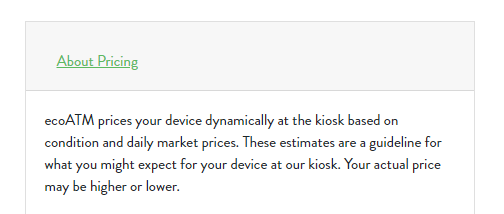 Assess your phone yourself before you begin looking for a price. This will make it easier to compare the money you can get like-for-like between EcoATM and another vendor. Make sure that everything works as it should if you want to get the best price.
Next, if you can get the EcoATM app to work for you, it's worth estimating the price you could get for your phone. You can find details here. The app will assess your device to determine what kind of product you have and its in working order.
Once you know what EcoATM is willing to pay for your product, compare it with another leading solution for selling electronics. You can get an instant quote for your iPhones, Androids, and other devices on GizmoGrind here. If the gap between what your phone is worth and the quote you get is too large, you might want to consider forgetting about the phone machines. Sending your phone to a verified buyer isn't as difficult as it seems.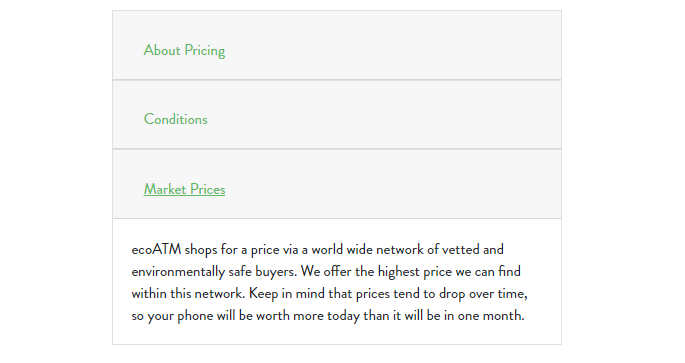 If you decide that you do want to sell your phone, either at a phone kiosk in Walmart, or through a reputable online company, backup your files. All companies that purchase phones and similar devices will ask for them to be wiped before they arrive at the business warehouse. This means that you'll need to remove all personal data from your product.
Backing up your files, like photos, contacts, and other essential information, means you can transfer anything you need onto a new phone. You don't have to save everything, but it's important to make sure you have a copy of anything you might want to use again. Some phones will let you automatically sync to a new device if you already have one available.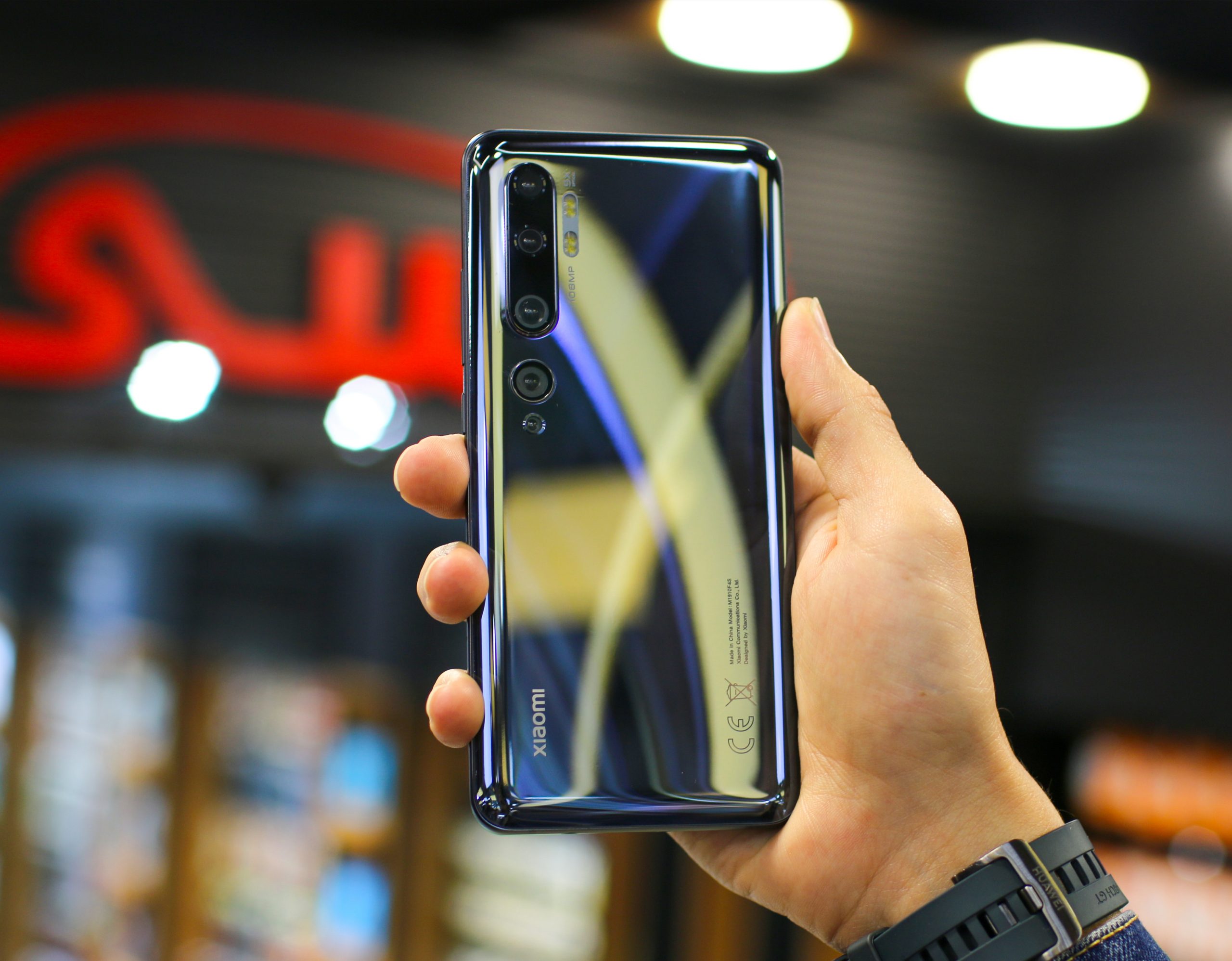 Remove all accessories and cards
You don't want any personal data left on your phone when you sell it. This is true whether you're using an EcoATM kiosk phone machine or selling to someone online. Start by removing the SIM card from your phone. This will prevent people from accessing any personal data about you if your phone is lost or stolen for some reason.
EcoATM does take measures to keep your device safe, but it's better to be cautious. If you have a MicroSD card in your phone to help with storing data, photos, and other information, remove this as well. You don't need to include any storage cards with your phone to be eligible for the price that you've been quoted.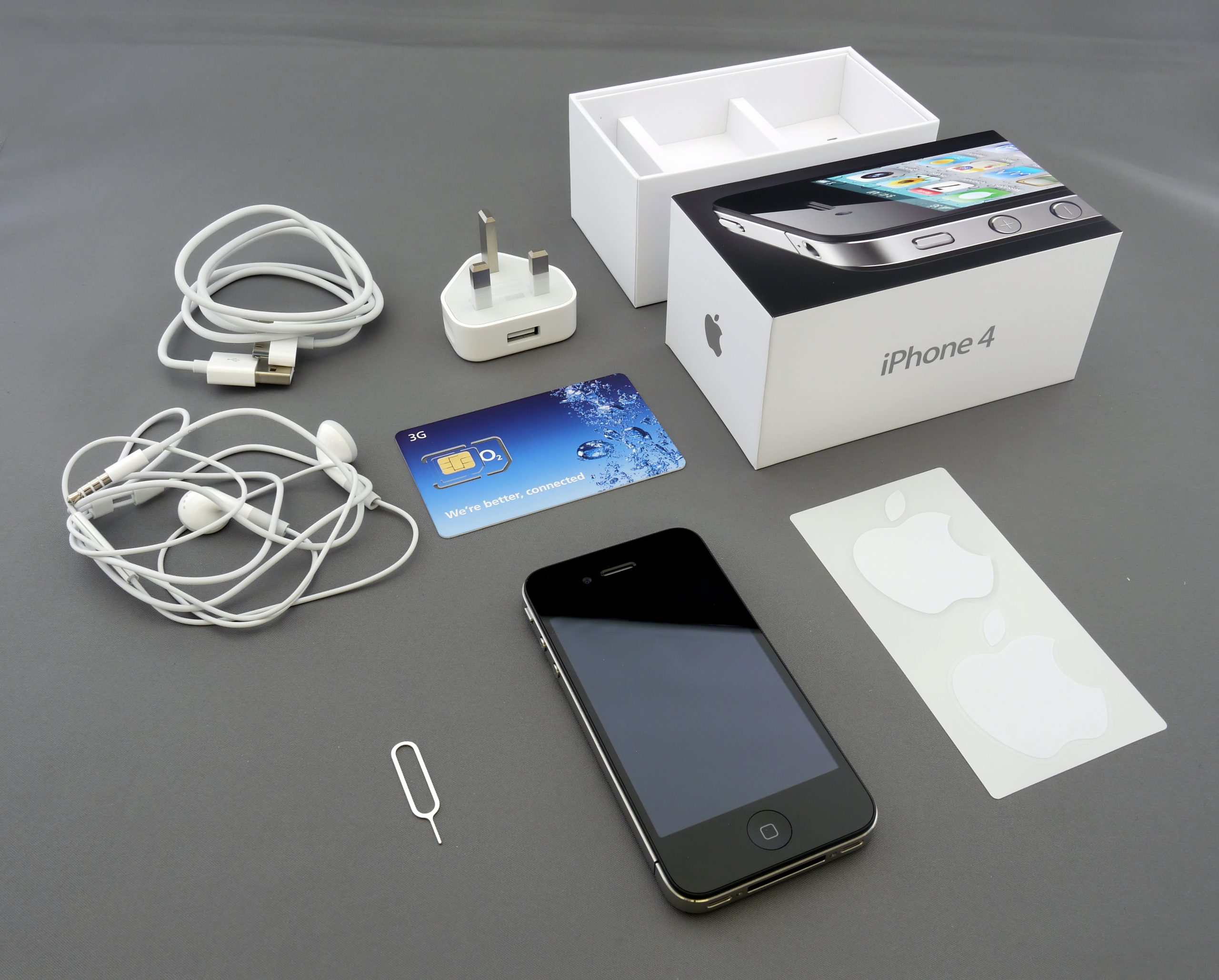 Once your internal cards are removed, take any accessories off your phone. You don't want to give away your phone cases and other items for no reason. If you're using a Walmart phone machine, then it's essential to remove accessories before you start scanning. Screen protectors and cases could show scratches that aren't actually on your phone. This would reduce the price you received for your device.
Return your phone to its factory settings to ensure any lingering data is removed. Your phone stores a lot of useful information about you, and you don't want anyone else to get your hands on that data. Before you sell to EcoATM or anyone else, go into your settings and learn how to do a hard reset to remove all of that information.
Remember, if you've backed up your files, you'll still be able to access the backups on your alternate device once this phone is wiped. However, if you haven't backed up, then all of the information you remove will be gone for good.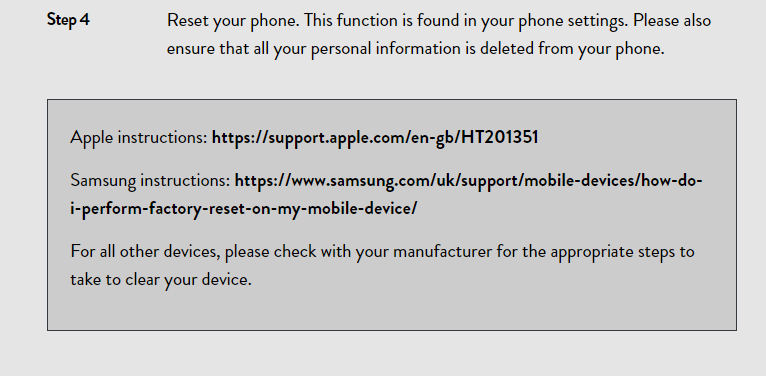 Make sure you're prepared for the sale
Finally, you can make sure that you're ready to make the sale. Remember, EcoATM needs to know that you're a legal citizen in your country over the age of 18 before you can make a transaction. You'll need a driver's license or ID with you that you can use to prove your identity. The phone machine scans your identity to match you to your phone. EcoATM kiosks also take your thumb print.
To ensure that you match your ID, the phone machine also takes a live photo to check that your face matches your picture on your license.
Should You Use EcoATM?
The premise behind EcoATM is a good one. Encouraging people to recycle their phones by giving them a quick and convenient way to do so is a great idea. We all need to do our part to reduce electronic waste. Unfortunately, EcoATM doesn't offer the best value if you want to get the most out of your old device.
If you want to get a good deal on your smartphone, or any other electronic product, then it's best to start by checking quotes online. Though it might take slightly longer to get paid with a traditional selling service, you can rest assured that you're getting the price you deserve.
If your willing to put in a little more work, you can sell your device on classifieds where you get an even higher price.