The 10 Best iPhone Repair Stores in Montreal
We all love our devices.
Unfortunately, that doesn't mean that we always look after them as well as we should.
Even with cases and screen protectors to defend your iPhone, there's always a chance that you could lose your grip on your device during an intense game of Candy Crush. One mistake, and you're suddenly searching for "apple iPhone repair Montreal," hoping for a way to bring your favorite investment back to life.
The good news? There are plenty of companies out there that can help with everything from screen repair and glass repair, to broken charger ports and more. Whether you're looking for a way to make your iPhone last longer, or you want to get it back into peak condition before you trade it in for cash through a company like Gizmogrind, you'll need the right professional assistance.
We've tracked down some of the highest-rated and top-performing iPhone repair stores in Montreal, to help you make the right choice.
Before You Visit an iPhone Repair Store
Before we jump straight into our list of the best iPhone repair options, there are a few things you should keep in mind. For instance, remember that your iPhone should include one year of hardware repair coverage through a limited warranty. – if purchased new in the box?
Hold off on buying your own repair tools or paying for a professional until you've checked the fine print. In some cases, your iPhone damage may be covered by Apple themselves, which means that all you need is a trip to the Apple Store. If you've got Apple Care Protection, then there's an even better chance that someone from the iPhone team will help you out.
If you are out of warranty, remember to check the following things when choosing your major repair company:
Location: It's no good finding an iPhone repair Vancouver company when you're located in Montreal. Look for someone nearby that you can rely on for extra help if the first fix doesn't give you the results you want.
Value: If you're planning on trading your phone in for cash after getting it repaired, double-check that the price of the repair is worth the extra money you'll get for the device. You can check this with your trade-in company.
Specialization: An iPhone is a unique device. Someone who can repair Android devices won't necessarily be able to deliver Apple Watch repair and iPhone repair too. Make sure you opt for a company that can give you the support you need.
Price: While professionalism and skill are important when choosing a repair store, you're going to have a budget to stick to, as well – keep that in mind.
Reviews: Check out what other people are saying about the store before you take your iPhone in for repair. Customer reviews are the best way to get a behind-the-scenes look at the service you can expect.
Got all that?
Great! Now we're ready to look at those leading iPhone repair stores.
1. Reda Solutions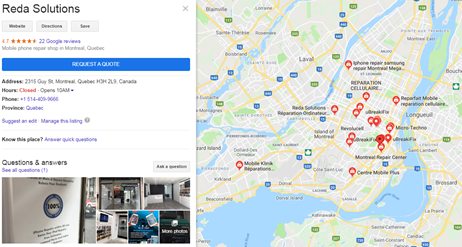 Located at 2315 Guy St. in Montreal, Reda Solutions is a nifty little technology store specializing in on-site repair and troubleshooting support.
The team can handle everything from computer maintenance to iPhone repair and tablet troubleshooting, so it's really a one-stop-shop for all your IT issues. What's more, the company has been in business since 2005, so they've got a lot of experience.
Reda solution delivers a professional and courteous service for an excellent price. For instance, if you're dealing with water damage, prices start at around $39, whereas iPhone screen repair starts at $69. The service is fast and efficient, and the team is always happy to answer any questions you might have.
Price: $
Google Reviews: 4.7 (22 reviews)
2. Revolucell

Situated at 5910 Cote-des-Neiges Road, Revolucell is a company that offers quick, efficient and meticulous repair options for both Apple and Android devices. The team has more than 20 years of combined experience in the tablet and cell phone servicing sector, and they pride themselves on giving high-quality customer experience every time.
The great thing about Revolucell is how friendly they are when you walk through the door. The team doesn't try to waste your time with upselling and cross-selling. Instead, you get quick answers to your questions, followed by a no-nonsense quote. Usually the pricing is very affordable, and the company is even willing to beat the costs quoted by other companies.
If you want to consult with an expert, you can make an appointment online.
Price: $
Google Reviews: 4.8 (55 reviews)
3. FixMobile
The FixMobile store at 6711 Avenue de Darlington doesn't look like much at first glance. It's not the most professional Apple repair store we've seen – but that doesn't mean you won't get a great experience from the team there. Customers far and wide love this little shop for its high-quality service and the professional attention to detail you get with each repair.
The staff are warm and friendly, and they can even recommend accessories and tools that you can use to avoid future problems with your phone. Another great thing about this shop is that you won't have to wait long before you see results. The team will generally be able to give you an estimated time for your repair when you bring your phone in for a quote.
Honest and straightforward, this is a business that you feel comfortable with, even when you're handing over your super-expensive iPhone.
Price: $
Google Reviews: 4.7 (61 reviews)
4. La Boutique iZone

Designed to be the ultimate location for Apple iPhone repair, Montreal-local store LaBoutique iZone is a fantastic location for on-site repairs delivered quickly. Whether you need help with computer repair, professional iPad assistance, or glass repair, this company can help.
Located at 5112 Park Avenue, this modern store also sells various accessories for your iPhones and devices, in case you want to stock up after you're done with your repair. Additionally, it's worth noting that the iZone store gives you a guarantee for all products and services that lasts up to 90 days. That kind of peace of mind isn't something you'll find from any Apple repair store.
The cost may be a little higher for a repair from iZone than it is from some other stores on this list, but it's definitely not overly expensive. You can expect reasonable prices for an excellent result.
Price: $$
Google Reviews: 4.9 (68 reviews)
5. Reparation Cellulaire
A slightly smaller store than some of the alternative options we've listed in this article so far, Reparation Cellulaire feels like more of a "niche" location than most. Situated at 2105 Jean Talon Street in East Montreal, the location offers an excellent service, combined with a highly affordable price. If you're looking for a quick and simple solution for iPhone repair in Montreal, then this could be the go-to destination for you.
Not only is this company one of the more affordable options for professional repair, but it's also very efficient and speedy too. Within a matter of minutes, the team can fix some of the more straightforward issues you might be having with your device, such as a broken camera or screen.
The team is courteous and friendly, and they're happy to answer any questions you might have. For same-day phone repair, you'll struggle to find a better solution.
Price: $
Google Reviews: 4.5 (189 reviews)
6. iTronics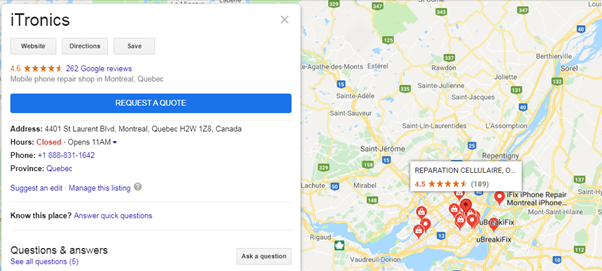 You'll find iTronics at 4401 St. Laurent Blvd. in Montreal, usually opening a little later than some Apple repair stores, at 11am. The store is very professional and comfortable, with a relaxing seating area where you can chill out while the team puts its state-of-the-art repair tools to work. This is one of the nicest stores that we've seen in Montreal, with a sleek entryway, and plenty of accessories to browse through while you wait.
Aside from giving you a nice location to hang out in while you're waiting for your repair, the company also offers a fantastic level of service. Highly rated by most customers, iTronics can give you screen repair, battery support, and more within a matter of minutes.
You'll even be able to grab a cup of coffee from the team while they're checking out your iPhone or Android devices. Another great thing? If you saw an accessory you liked and decide to buy it later, you can just check the online store.
Price: $$
Google Reviews: 4.6 (262 reviews)
7. Mobile Klinik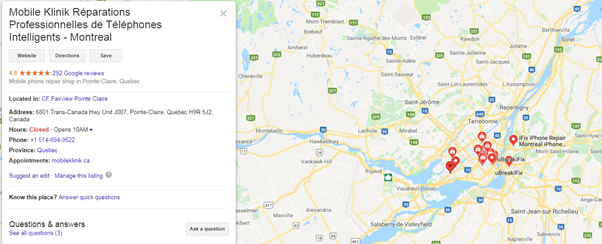 A dedicated phone repair company at 6801 Trans-Canada Hwy, Mobile Klinik offers quick and efficient repairs for virtually any issue you might have with your smartphone. With the latest in repair tools available, they can deliver everything from Apple watch repair to glass and screen repair for an affordable price. What's more, customers love the sleek and sophisticated design of the store.
Even when there are a handful of other customers to serve in the shop, the staff still manages to give a highly personalized and warm experience to each individual customer. Whether you're having a hardware or software problem, the team will discuss your options with you in-depth, and make sure that you understand exactly what kind of service you're paying for.
It's hard to find anyone who has visited this store who didn't love the experience that they got from the moment they walked in.
Price: $$
Google Reviews: 4.8 (292 reviews)
8. Centre Mobile Plus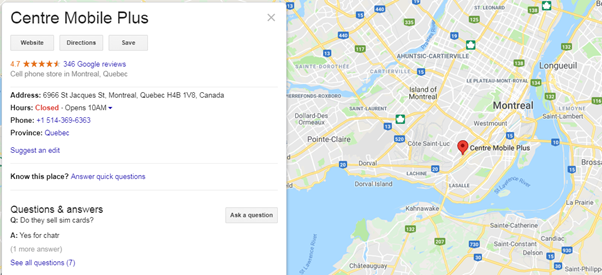 Centre Mobile Plus at 6966 St. Jacques Street combines affordable rates with a fast process and excellent service quality to bring Montreal iPhone owners the support they need. If like most of us, you can't go more than a few hours without your beloved iPhone, then you'll love the dedication that Centre Mobile Plus offer when it comes to getting your device back to you as quickly as possible.
Aside from offering professional Apple iPhone repair, this Montreal store is also a great place to go if you're looking for tools and accessories to upgrade your smartphone. There are dozens of different brands to choose from, and the knowledgeable staff is always on hand to answer any questions that you might have.
The only downside with this store is that some members of staff seem to be more efficient than others, so if you get a newbie, you might be waiting around for a little longer.
Price: $$
Google Reviews: 4.7 (346 reviews)
9. uBreakiFix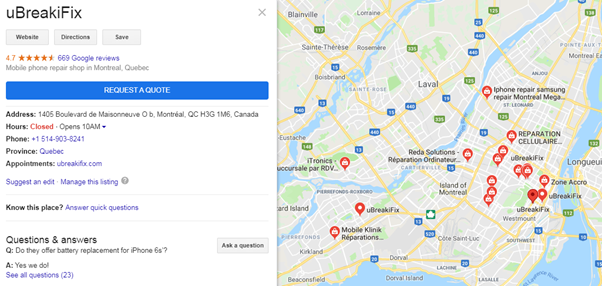 A modern Apple repair store at 1405 Boulevard de Maisonneuve, uBreakiFix is one of the highest-rated options for professional iPhone assistance in Montreal. The company is packed full of friendly and enthusiastic staff who are always ready to give you the highest quality of service. In some cases, the team might not even charge you if the issue you're dealing with is basic enough.
Although the price you need to pay for your repair will differ depending on the kind of product you're dealing with, uBreakiFix does offer a low-price guarantee. This means that if you find a cheaper price anywhere else, the business will match the cost, then beat it by an extra $5.
Another great thing about this company is that all of the repairs they offer are backed by a 90-day hassle-free warranty. If you find that the results you get aren't as amazing as you first thought, then you can just go back to one of their many worldwide locations to get the issue resolved.
Price: $
Google Reviews: 4.7 (669 reviews)
10. Micro-Techno
Last but not least, Micro-Techno is a state-of-the-art company offering everything from new smartphones to accessories, screen repair and more. Whatever you need to make the most out of your tech, Micro-Techno has you covered. That's probably why thousands of customers have rated this store as their go-to place for IT assistance.
Micro-Techno can fix your device within a matter of minutes or hours, depending on the complexity of the issue. As well as iPhone repair, the organization also offers support for Android devices and Mac computers. What's more, unlike most companies, each repair comes with a one-year warranty, or 6 months for batteries – that's way more than you get anywhere else.
All of the parts and materials used to fix your phone match the quality of the original, and 80% of repairs can be conducted on the same day. What's more, if you're not sure what's wrong with your equipment, Micro-Techno will conduct a diagnosis for free.
Price: $$
Google Reviews: 4.9 (1,264 reviews)
Find Your Favorite Apple Repair Store
When it comes to the best iPhone repair stores in Montreal, there are plenty of professional and reliable options to choose from. Montreal is packed full of high-quality tech companies with state-of-the-art repair tools to assist with everything from defective batteries to shattered glass. Some brands even have locations across Canada, so you can get the same quality of service from Toronto to Vancouver.
Which Apple repair store do you like most when it comes to overcoming your tech issues? Let us know in the comments below!