After two long years, Apple's iPad Air 5 finally launched last March. Now equipped with Apple's powerful M1 chip, 5G coverage, and a new-and-improved front camera, the iPad Air 2022 is a very enticing upgrade for many users.
Selling your old iPad Air is a great way to save up for a new one. There are many different options available, but you'll want to find the best place to get the most money for it.
This blog post will look at the top 5 places to sell your iPad Air and what you can expect from each one. Bonus! We'll also give you some tips for making a sale on these platforms.
Best Places to Sell iPad Air:
1. Facebook Marketplace
Facebook marketplace is one of the most straightforward ways to sell your iPad air. Listing an item on Facebook Marketplace is as simple as taking a few pictures and writing a short description. You can also easily search for buyers in your area or ship your items to buyers located elsewhere.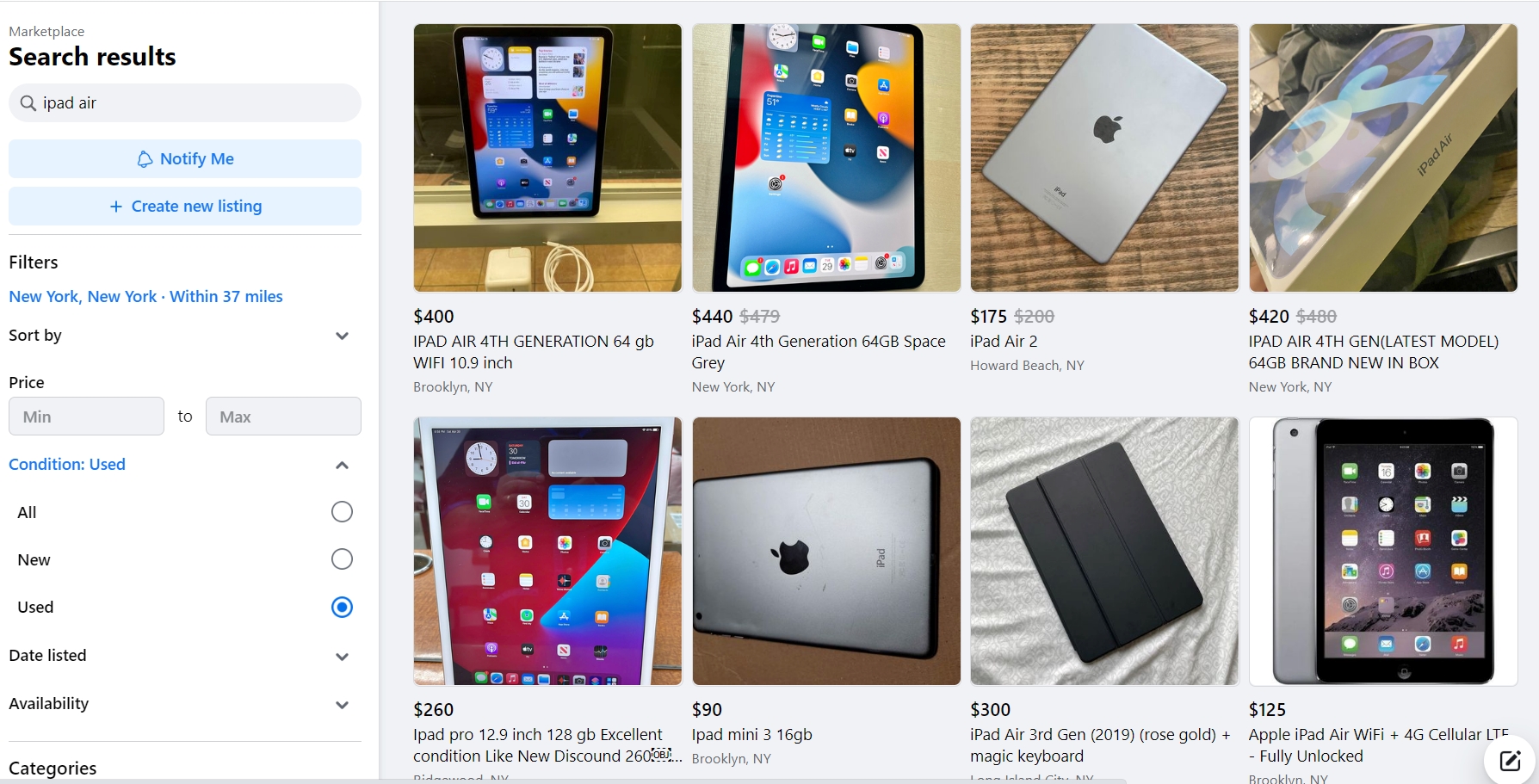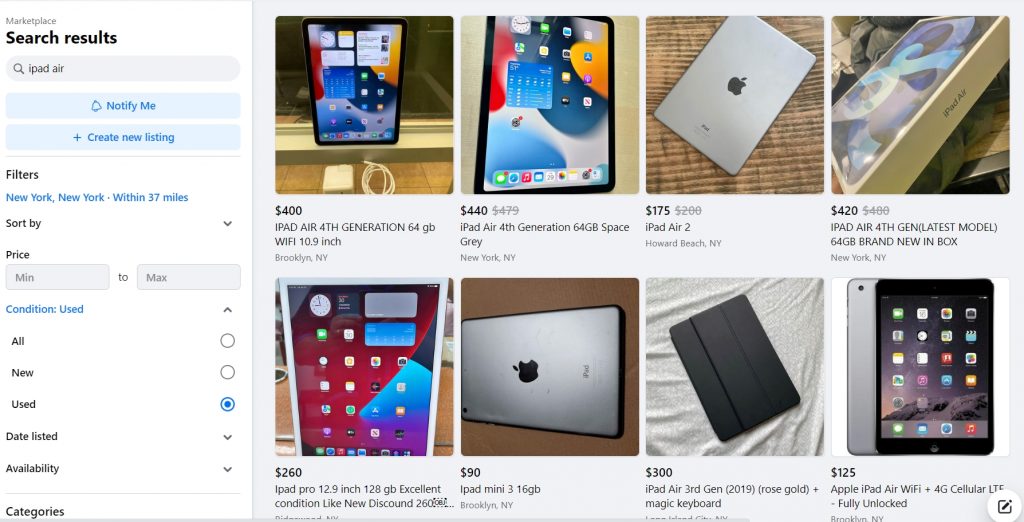 It's similar to Craigslist in that it's free to list your items, and you can sell to people in your local area. But we chose Facebook over Craigslist because Facebook Marketplace offers some built-in protections against fraud and scams.
Selling on Facebook Marketplace prompts buyers and sellers to use their real names and actual profile pictures in order to convince people to trust them. What's more, unlike Craigslist, potential customers can directly message a seller without giving out sensitive information like their phone number or email. This helps create a safer and personalized online marketplace.
And let's not forget that Facebook is still the largest social media platform globally, with over 263 million monthly users in the US and Canada alone. So, there's a very good chance you'll be able to find buyers for your iPad Air even if you don't live in a big city.
Pros
– Free access to a large audience
– No need to give out your phone number or email address to buyers; you can directly message people
– You can perform a background check on your potential buyer by visiting their profile
– You have the option to target your ads to specific people in your area
– You can customize your marketplace and make it private
Cons
– You might waste time with people who aren't serious about buying
– Purchases aren't protected, so resolving disputes might be difficult
– Ad approval can take up to a few days
– You have to arrange shipping yourself or meet up in person
Tips For Selling Your iPad Air On Facebook Marketplace
-Use more keywords and buzzwords on your listing
-Optimize your Facebook profile to avoid looking sketchy when interacting with buyers
-Take great pictures of your iPad Air so that it stands out from the competition
-Write a long, detailed, and bulleted listing about the iPad Air you're selling
-Be clear about your price and any shipping or delivery charges in your listing
-When agreeing to an in-person sale, meet with buyers in a safe, public place 
-Get paid with cash or a secure payment method before handing over your iPad Air
-If you're shipping your iPad Air, get insurance to protect yourself against loss or damage in transit
2. Swappa
Swappa is an eCommerce site specifically for buying and selling used electronics. On the platform, buyers can select the particular model, specs, and conditions they're looking for and browse listings from verified sellers.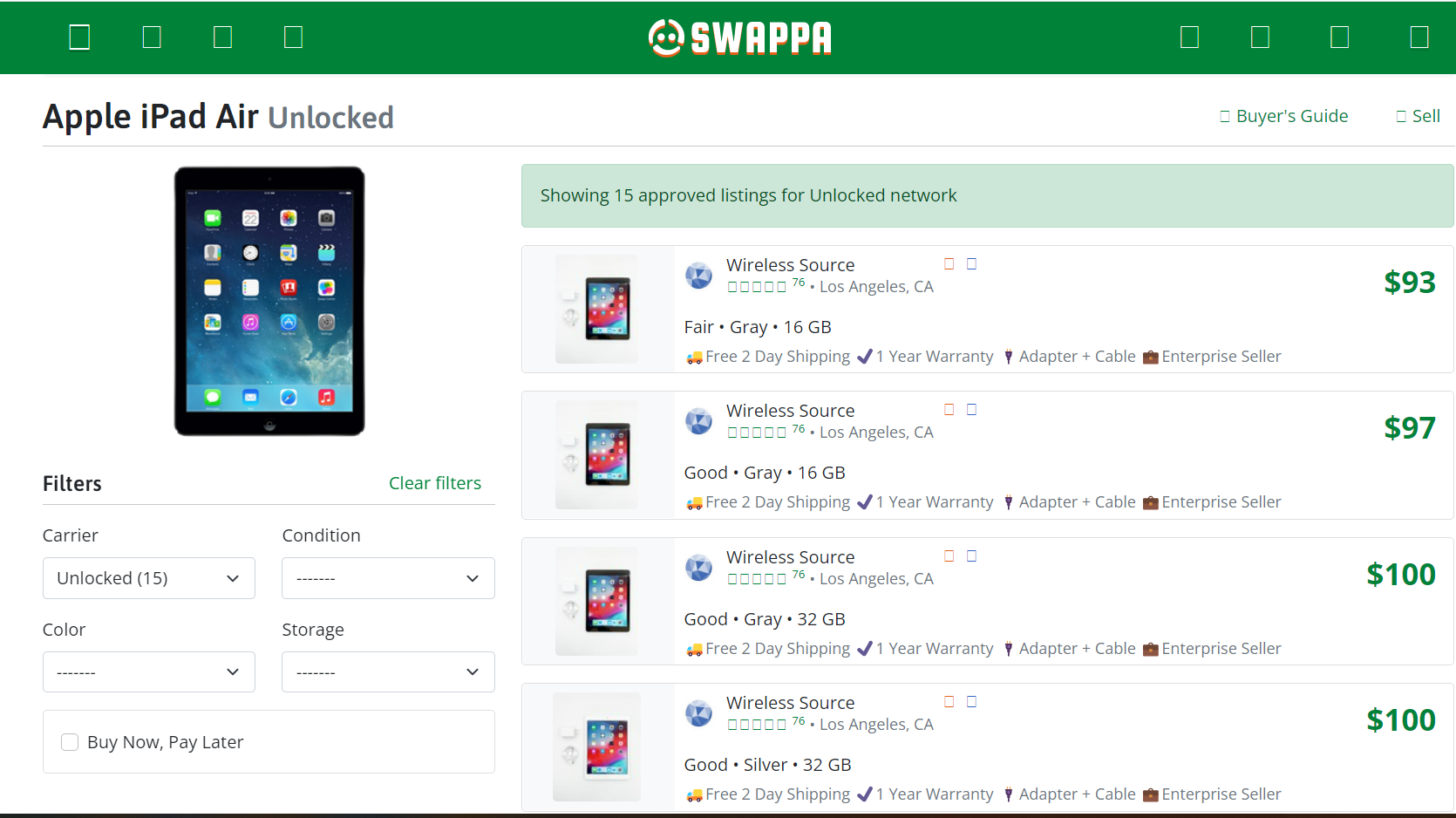 Swappa has a no junk policy for devices to be sold on their site. It does not allow sellers to list damaged, broken, or stolen items. Instead, they only allow devices in New, Mint, Good condition, or Fair condition to be sold. This helps create a more trustworthy environment for buyers and reduces the chances of fraud or scams.
They require no listing fees, but both the buyer and seller must pay a 3% commission fee for the item sold.
Pros
-Safe and easy to use
-You're selling to a more specific audience of people who are actively looking for an iPad Air
– There's less competition because sellers have to meet Swappa's standards for device condition
– You're protected from fraud and scams because Swappa has strict requirements for the items being sold on their site
-No listing fees, only a commission fee
-Various payment methods
Cons
-It can take up a few hours for your listing to be approved
-Listing automatically expires after ten days unless you extend it manually
-There might be a waiting game for the right buyer to select your specific iPad
Tips For Selling Your iPad Air on Swappa:
-Write an honest and detailed description of your device's specs and condition
-Take many pictures of your iPad Air to give buyers and Swappa evaluators to closer look at your iPad Air's condition
-Be patient when waiting for your listing to be approved
-Monitor your listings regularly to answer any questions potential buyers might have
-Ship your iPad Air as soon as you receive payment from the buyer
3. OfferUp
OfferUp is not a site but a mobile app that allows you to buy and sell from local and even, nearby consumers. It focuses on making transactions more secure by verifying users' identities through their Facebook or Google account profiles.
The app started out emphasizing face-to-face transactions but now has shipping options. They also offer buyer protection against fraud and scams so you can feel confident when selling your iPad Air.
 OfferUp does not charge listing fees, and you won't have to pay them anything if you meet up with your buyer. However, if you choose their payment and shipping method, they will charge a service fee of 12.9% for items sold worth more than $100. All items below $100 cost $1.99.
Pros
-Safe and easy to use
-You're selling to people in your local area
-No listing fees, only service fees
-OfferUp protects buyers against fraud and scams
Cons
-12.9% service fee is significantly higher than popular sites like eBay
-It can take some time to build up a reputation as a trustworthy seller on the site
Tips For Selling Your iPad Air on OfferUp
-Price your items a little higher than you would so you can entertain offers
-Take clear pictures of your iPad Air
-Be as detailed as possible in your description
-Respond to messages and questions quickly
-Meet buyers in a public place for the transaction
-Get paid with cash or a secure payment method before handing over your iPad Air
4. eBay
Despite mixed reviews, eBay still makes our list because of its worldwide market reach. Unlike the options we stated above, anything goes with eBay. You can sell a brand-new, unopened iPad Air for its full retail value or sell a cracked, damaged iPad Air "as is" for parts.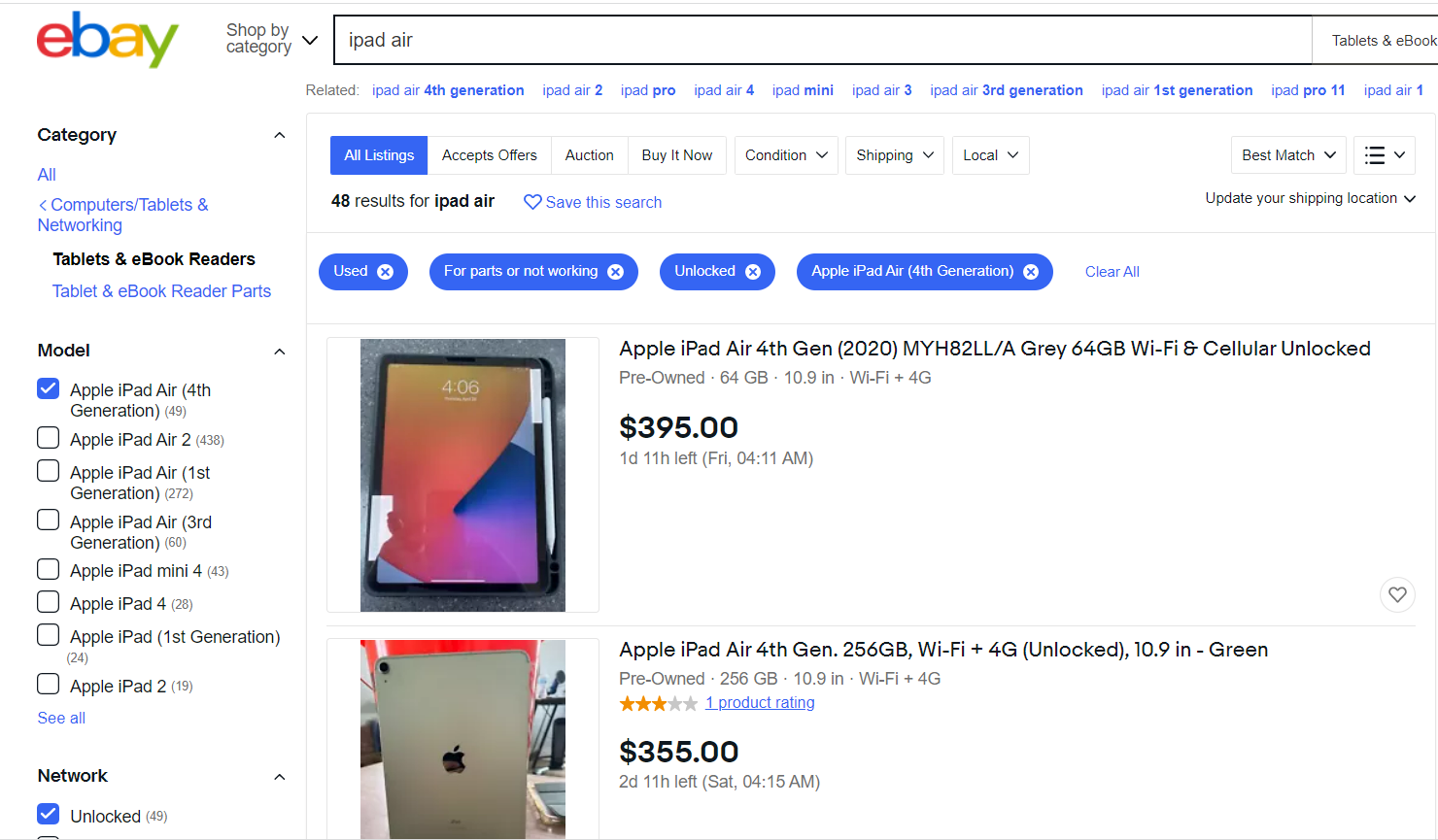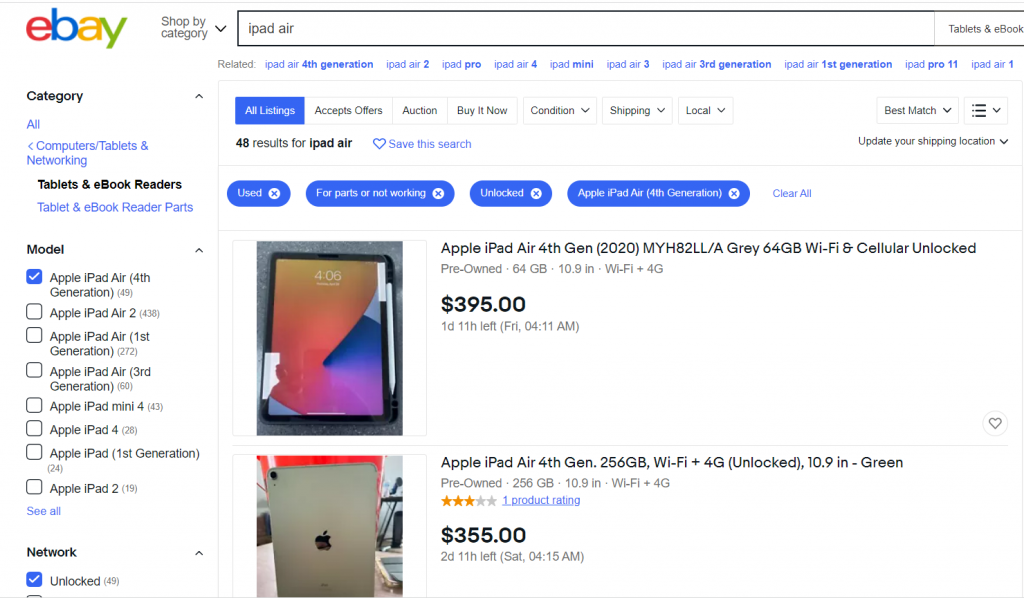 eBay also offers options for setting up an auction-style or buy-it-now listing so customers can find great deals. Sellers can set their shipping costs and sell to buyers anywhere in the world.
Currently, eBay keeps 12.9% per sale as a final value fee and charges an insertion fee. And, if you offer PayPal as a payment option to buyers, they'll take an additional fee as well. So, you'll need to factor all of this into your final sale price.
Pros
– Global marketplace
– You set the price
– A wide variety of payment options
– Good customer service
– Protection against fraud
Cons
-Competitive Marketplace
– Fees can eat into profits
– You're responsible for packaging and shipping the device, which can be time-consuming
-Can be difficult to resolve disputes
Tips For Selling Your iPad Air On eBay
-Get a good understanding of how the site works
-Do your research to know your iPad Air value based on the current market value
-Take great pictures and write a detailed description of your iPad Air to help it stand out from the competition
-Ship iPad Air securely and provide tracking information to the buyer
– Respond quickly and professionally to any questions or concerns that arise
-Follow up with buyers after they receive the item to ensure they're happy with their purchase and they leave you a good review
5. Independent Trade-ins
Finally, if you're not up for all the time and effort required in the places above, you can sell your iPad Air to trade-in companies.
These companies will give you a quote for your device and, if you accept, will send you a shipping label to mail in your iPad Air. Once they receive it and verify its condition, they'll send your payment. It's that easy!
Most trade-in companies have an online quoting system so you can instantly get your iPad Air 1 trade-in value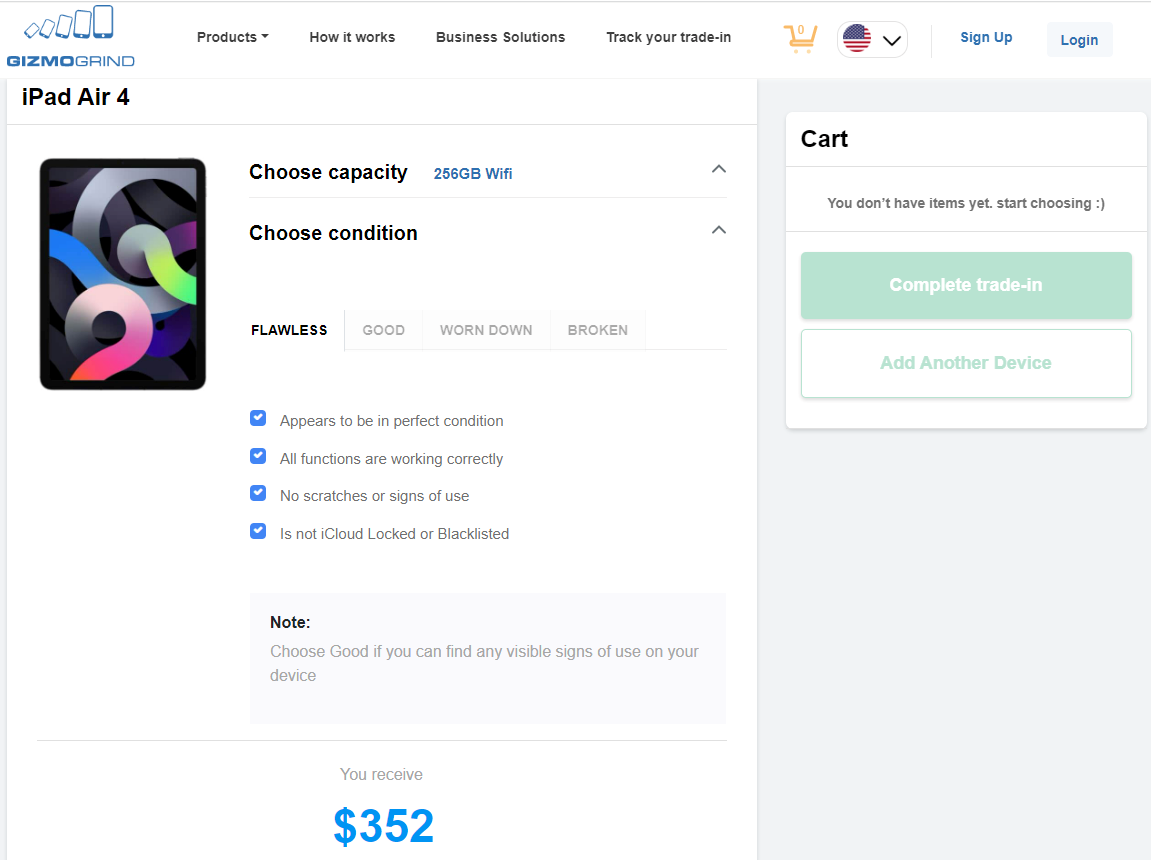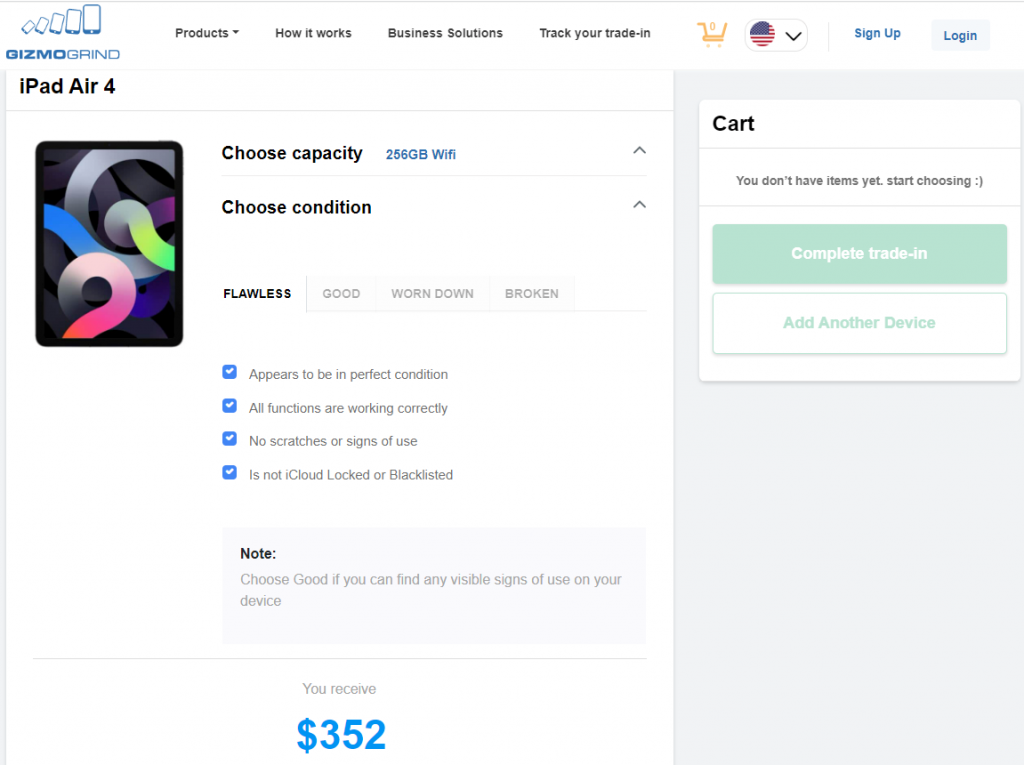 We recommend selling your iPad Air to independent companies instead of trading it to trade-in programs like Apple, Best Buy, or carriers like Verizon. Trade-ins like Gazelle, Decluttr, and GizmoGrind, will give you actual cash—not just an Apple gift card or store credit.
Particularly here at Gizmogrind, we pride ourselves on the fact that we offer rates 2x higher than what you can expect from mainstream services. Check how much we're willing to pay for your iPad Air here!
Pros
-You don't have to do any work besides shipping your iPad Air to the company
-No need to stress about taking pictures, writing descriptions, or dealing with buyers
-You get paid fast
-You can sell your iPad Air even if it's not in perfect condition
Cons
-The trade-in value you're offered will be lower than if you sell it yourself because the company will be selling it to refurbishers
-There's always the risk that your iPad Air could get lost or damaged in the shipping process
-You won't have as much control over the sale
Tips For Selling Your iPad Air To An Independent Trade-in
-Compare quotes from multiple companies before deciding who to sell to
-Check reviews of the company online to make sure they're reputable
-Check if they are committed to doing good for the environment
-Make sure you package your iPad Air securely to avoid any damage during shipping
-Get paid with PayPal or a check, so you have proof of the transaction