Ok, so you're wondering how do I sell my phone on Kijiji. We got you covered!
Kijiji and Craigslist are definitely an alternative to using GizmoGrind for your phone selling needs or sell iPhone. These classifieds lets you DIY the sale and can offer a bit higher return on your device whereas GizmoGrind allows you to use our global distribution channels for a faster sale and without the risks, effort and time required with Kijiji.
Either option is a good one! Here, we'll show you how to do Kijiji the right way and avoid the risks that come with it.
Don't let the stigma around classifieds keep you. iPhone and Android enthusiasts are eagerly waiting for you to list your once loved Smartphone.
Choosing Your Selling Platform
First, choose your weapon. It goes without saying that there are other platforms out there. For instance, check to see if the going rate for your specific iPhone model is higher on eBay, Kijiji or Craigslist. A quick 2-minute glance at the sites should give you an idea.
If you choose to sell it on eBay, here's our guide on how to sell your device on eBay.
iPhones and Samsungs go very well on any platform, whereas Androids will need some research. Or you can post on multiple platforms for the best shot at getting it sold.
Preparing Your iPhone for Sale
To get started, get your device ready. Here's our guide with everything you need to do to get the most cash from your iPhone Sale. Not following these quick tips may mean leaving money on the table.
Avoiding Scams on Kijiji and Craigslist for sell iPhone
The biggest fear people have is being scammed on Kijiji and Craigslist when selling their iPhone. It does happen, so here are the most common scams and how to avoid them.
Scam #1: I'll pay you with PayPal
If you list your device on Kijiji, rest assured there is a distant buyer who will make you a generous offer. Only until you agree on the price, the buyer brings up the fact that you'll have to ship it to some US address or another continent altogether and they will pay through PayPal.
Solution: You can identify these buyers right away from the odd phone number they use. However, the distant "Princes" have stepped-up their game and will commonly use local numbers via burner apps. So, another way to identify them is with the offer they give you. Often times, they will offer a higher amount to entice unwitting victims. And lastly, after your time has been wasted answering their questions, that the last telltale is the:
"will you take PayPal"
or
"can you ship it to…"
At this point, I think it's important to clarify. Although Kijiji is trying to push PayPal on its platform, it's way too high risk and very few people who offer to pay with PayPal on Kijiji are in fact legitimate.
Simply put, no… Just no!
Also, please oh please don't ship your device. Not within Canada and not to a prince from a distant land, I'm sure the prince can afford to buy an iPhone somewhere other than Kijiji!
For the customers that you actually meet face to face who want to pay with email transfer, I would also strongly urge against it. It is definitely safer but still carries a higher risk than cash. Plus, it ruins all the fun of using Kijiji and counting cash like the old days.
Scam #2 Robbery and Baiting Crimes
Don't turn away just yet, this doesn't have to happen to you. Simple precautions will go a long way to making a would be sticky fingers never dare. But yes, it happens a lot. This Edmonton buyer was robbed at gunpoint while using Kijiji to purchase a phone and this Toronto case involved two teens who targeted sellers.
Here is a safety checklist to avoid a robbery when selling your Apple device on classifieds
Meet during busy hours
Do your transaction at your local police station lobby. Many cities have even established safe meeting zones just outside the police station.
If you cannot meet at a police station, meet at a busy mall, or inside a busy coffee shop
Avoid meeting in train stations or bus platforms
Do not meet at isolated locations
Do not meet at your home or their home address
Do not give out your personal address
Go with someone
Let a family member or friend know about the meeting location and time beforehand
Go with your gut. If you don't feel right about the buyer, remember it's only a phone and not worth risking anything for.
Scam #3 Monopoly Money
Getting paid in counterfeit cash has been a crime in decline ever since plastic money. Not so fast, It's picking up steam again after police find counterfeit plastic money at 4 times the normal rate in 2017.
How to inspect Cash for counterfeit Canadian Bills
Scratch test the coloured surface and look for the colour to chip or wear easily. The real thing won't!
Check the hologram and make sure the correct denomination is on it. For this example, the hologram should have $100 on it to match the bill. Why so serious Sir Robert J
Trading an iPhone on Kijiji and Craigslist
Trading your iPhone for another one on Kijiji or Craigslist isn't the best use of classifieds. Everyone who has their Apple listed is looking to trade up to the newest model from an older one.
Chances are that's what you'll be doing! Simple supply and demand would mean it is unlikely that you get a successful trade up on Kijiji.
There are two scenarios that would make it worth your while to try a barter.
Trading from Android to iPhone or the other way around
Trading the same model iPhone for a different coloured version
You don't like the new model and want to trade down
In these cases, your chances are good!
Download the Kijiji App
The easiest way to use Kijiji is with their Smartphone app. You can download the app here:


Step 1 Figure How Much You Can Sell it For
List it for too high and it doesn't sell, too low and you are losing money. Finding the sweet spot is a bit of a science but still super easy.
Open Your Kijiji app and do a quick search to get a feel for the market.
It can get tricky finding the exact model of your iPhone Kijiji. You'll have to go through a number of ads that are not related to your device.
You'll also notice half the devices there are from resellers. Skip these listings because they distort how you decide to price your device.
They'll look like this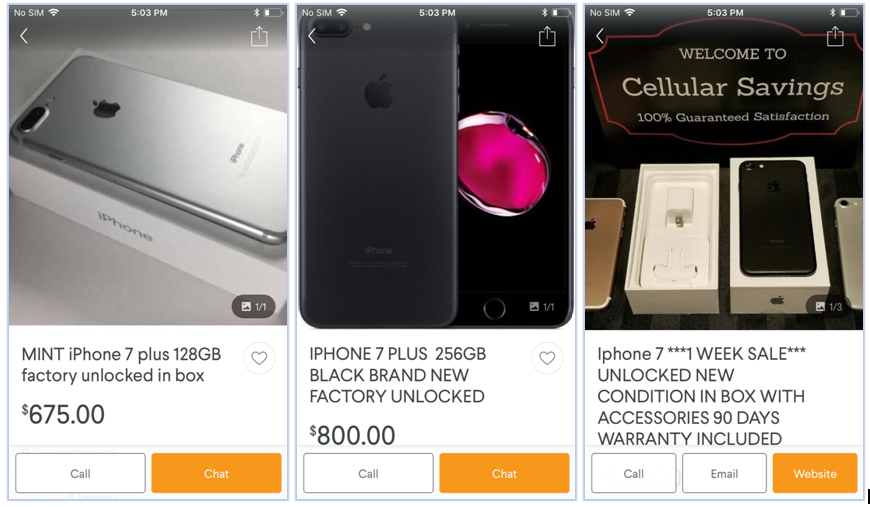 Next, refine you're searching for your city.This matters, different cities will have a different market value for IOS devices that vary drastically.
Tap Refine>Location>Choose your city
Expert Tip: The larger the city, the higher price your smartphone will fetch because there are more potential buyers. So if you live on the outskirts of a major metro area and if an extra $50 to $100 dollars is worth the trip, list your item in that city.
With that, plow through the listings scanning for your exact model and after finding four or five listings that match what your selling, you should have a strong idea of the market price for your phone.
Price your phone according to how fast you want to make the sale.
Once you've picked a target price, make sure to add at least $20 for some bargaining room. It will happen!
Step 2 Posting Your Phone
Login to the Kijii App or register an account.
Then hit Post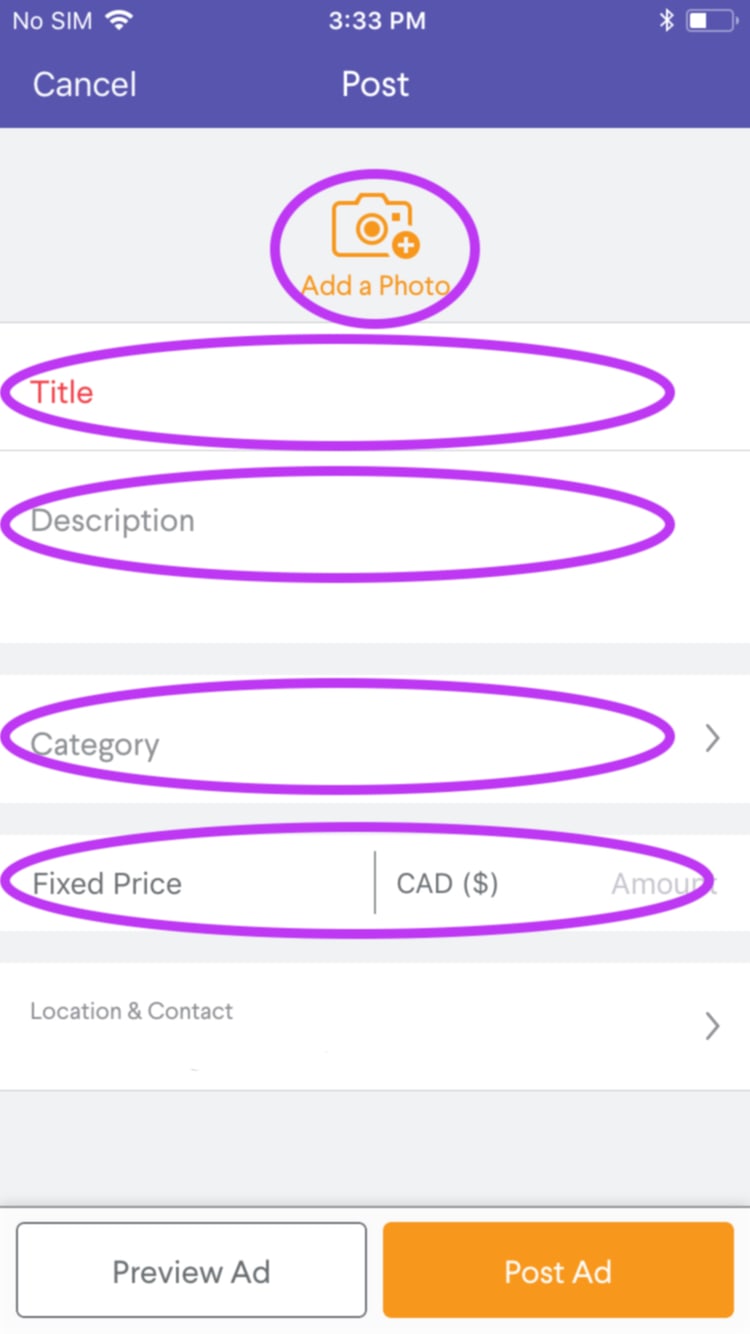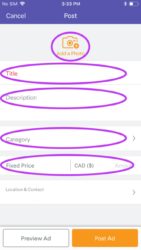 Take some pictures of your phone and fill in the details on the next screen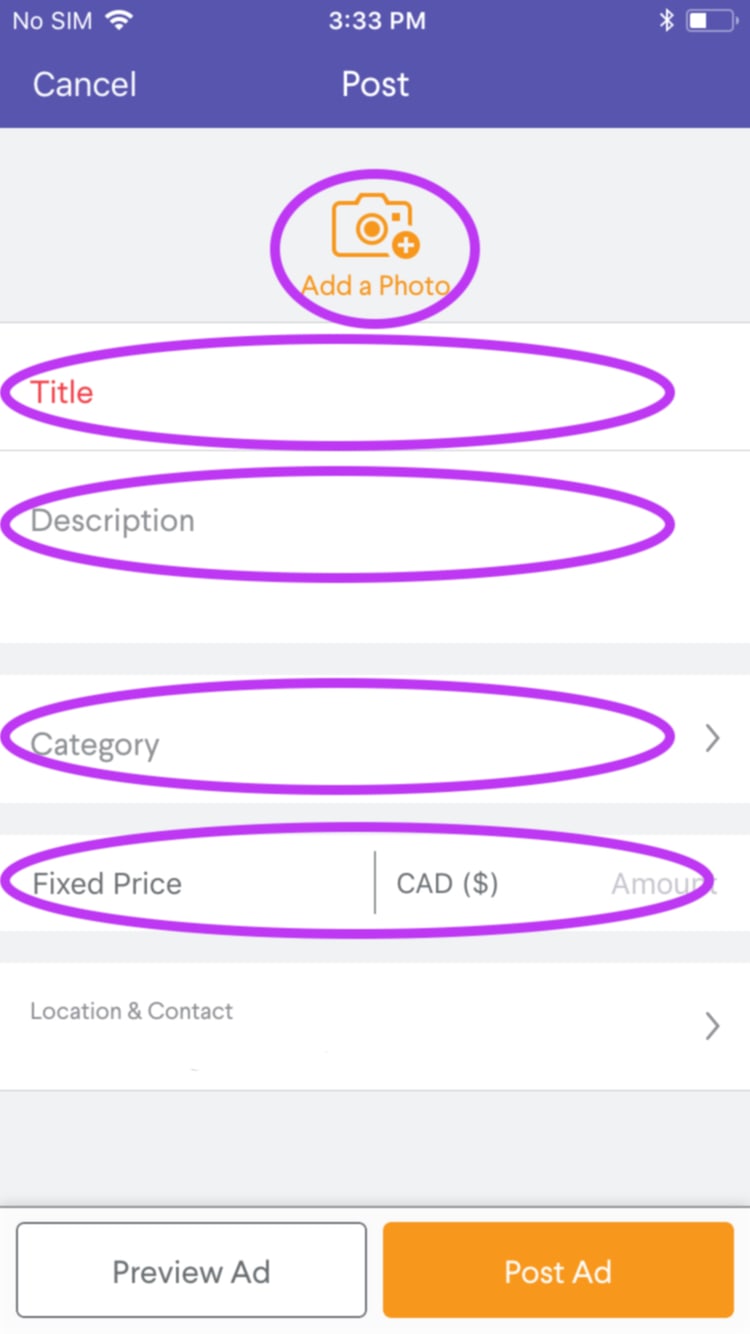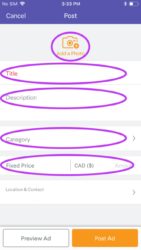 Here are some tips for creating an eye-catching ad.
Photos
They key is to take photos on a bright day. Ideal conditions are when there is some overcast to even out the light. Clear the clutter in the background and include any accessories you'll be selling it with in the pictures. Read more on how to take the perfect pictures.
Crafting the Perfect Title
Include nothing but the key selling features of your device. Don't think sentence, Think only in words. Words like And, with, for, quick, price have no place here.
Let's say you're selling an iPhone 7 that's unlocked and in tip-top shape with an Apple warranty still valid and accessories. You want to fit in all those key selling points in the title without having the title truncated in search results. To do this, craft your title in 50 characters, this includes spaces.
Heres a good example
iPhone 7 128GB Mint Unlocked Warranty & Accessories
Description
If you do the title right, you'd have described your device perfectly. Shoppers are nervous spending hundreds of dollars on Kijiji without the guarantees that come with a brick and mortar store purchase so the description field gives you a chance to inspire confidence.
Write in conversational language
Mention that you are open to allow time for the user to test the device to their satisfaction
If you used a case or screen protector, mention it!
Step 3 Communicating with Shoppers
Sometimes is super busy and you'll get a lot of response. Other times, nothing at all. Just be patient and wait it out answering every potential buyer.
The hard part is here. Expect many messages and 50% of them to ask you to ship it to them (scam). The other 40% will make downright insulting offers. Whatever is left will try and offer you way less once you meet or even worse, will arrange to meet and leave you waiting on the curb altogether.
It is annoying, but it can be worth your while if you stick to your guns on price, let the buyer come to you and keep negotiations open with all buyers so that if one doesn't show up you have other potential buyers.
That's it for us folks! Let us know if you'd like us to add or elaborate on anything else. Happy selling