Now more than ever, human beings need some extra help staying positive.
At the time of writing this article, 2020 has already been hit by economic uncertainty, horrific natural disasters, and of course, the COVID-19 pandemic. We're all searching for ways to not only maintain our physical health at this time but stay mentally fit too.
On the one hand, smartphones have a pretty bad reputation when it comes to mental wellness.
Everywhere we look, we see reports about social media giving us "FOMO," and smartphones harming our ability to fall asleep.
However, while smartphones do have their dangers, they're also brimming with potential to turn us into happier and healthier people too. Research is beginning to reveal that investing in the right tools and happiness apps can give us the extra support we need to survive in difficult times.
Today, we're going to look at just some of the apps you can use to make yourself happier, calmer, and more at peace in 2020.
Apps to Make You Happier
Happiness apps are any tool you can use on your smartphone to get a sense of wellbeing when times are tough. Think about how video calls and FaceTime on your iPhone let you connect with people around the world. During times of panic, social distancing, or even just a lack of transport, your phone ensures that you never have to feel alone.
Used correctly, your smartphone can also present you with a host of apps that you can use to protect your mental wellness, from tools that give you access to tele-conferencing therapists, to apps for mindfulness and meditation.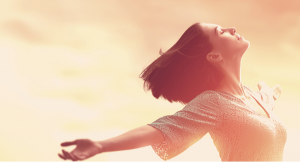 Here are just some of our top choices for happiness apps.
1. Happify
Available on: Android and iPhone
Happify is an app that promises to increase positive feelings through fun activities, games, and learning opportunities. Based on science, the techniques recommended by Happify give you the tools that you need to reduce stress, even in the most worrisome of situations.
When you download the Happify app, you'll find a selection of scientifically validated "tracks to happiness" that you can choose from after you complete a short questionnaire on your life. Each track comes with a theme, and it's divided into bite-sized chunks that are easy to follow.
There's also a community page where you can find stories and inspirational comments from other people who have already discovered the benefits of Happify for themselves.
The great thing about Happify is how varied it is. There are about 1,200 activities to engage with in total, and they were all designed by a psychology professor. Every couple of weeks, your phone will also check in on you to see how your happiness is going.
2. Headspace
Available on: Android and iPhone
Headspace is an app that identifies itself as a guide to health and happiness.
Dedicated to improving mental wellness, this smartphone app and web-based tool uses guided meditation and mindfulness to help you live a healthier lifestyle.
You can use Headspace to reduce feelings of daily anxiety and stress, improve your focus, and even increase feelings of compassion towards others.
Within the Headspace app, there are tons of meditation guides to choose from, all the way from basic tools through to advanced routes for various aspects of your life. You can get guidance on everything from general happiness to managing the stress of work and improving your sleep.
Headspace is a pretty simple app, but it's effective. With it, you can learn how to meditate mindfully, breathe properly, and live your life to the fullest. You can also use the in-built exercise plans to help you manage your stress and increase your serotonin levels too.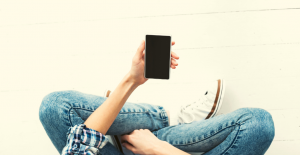 3. Yolife
Available on: Android and iPhone
Yolife is a relatively new app for health and happiness.
Created as a personal coach for those who want to live happier and healthier lives, Yolife makes it simple to practice things like mindfulness and self-care.
You can sign up by creating a new account, or you can log in with Facebook to make things a little easier. To begin with, you'll be asked a few questions about your habits, health, exercise, social life, and so on. Your responses will determine the kind of guidance you get.
Perhaps one of the best things about Yolife is how scientific it is. If you've been looking for a mental wellness strategy that you can really trust, Yolife will help with that.
The personalized program that Yolife delivers based on the questions that you answer also makes it feel like you're getting a therapeutic strategy that was designed just for you. Yolife uses the scientific study to figure out which activities are going to add the most years to your life overall.
This is a tool worth checking out if you're looking for happiness apps that address mental and physical health at the same time.
4. Calm
Available on: Android and iPhone
Calm is a meditation and relaxation app, designed to get you on the path to a more stress-free life. The app comes with a number of sounds and guided meditation tracks that you can use to help you relax either at the start of your day, or before bed.
Daily guided "calm" sessions help you to unwind and refocus your concentration. Additionally, there are programs specifically designed to help you tackle specific problems.
If you feel like doing something a little different, you can pick up exclusive music tracks that will help you to sleep, relax, or focus. There are also "sleep stories," which are basically like bedtime stories for adults, with narrators like Stephen Fry and Matthew McConaughey.
The latest version of Calm also comes with a new "mood check-in" option, which allows you to reflect on how you're feeling every day. There's also a home screen where you can list your favorite meditations to make them more accessible.
The initial version of Calm is free to access, but you can also tap into a bunch more content if you're willing to upgrade to a subscription that lasts the whole year.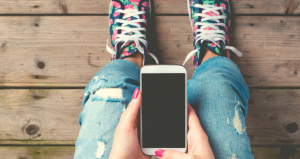 5. Stop, Breathe and Think
Available on: Android and iPhone
Compared to some of the other happiness apps that we've discussed so far, Stop, Breathe and Think isn't quite as well-known. However, we think it's an excellent way to improve mental wellness.
Unlike some of the other apps on the market today, this tool asks users to "check-in" before they meditate. You can use various adjectives to describe how you're thinking and feeling on a mental and physical level. This is an excellent way to get in touch with yourself after a long day.
The app uses the information that you provide to recommend guided meditations and yoga sessions, depending on what you need. You can access up to 30 activities for free, and there are dozens of alternative options if you're willing to upgrade to premium.
Although this app specifically tries to attract people under the age of 25, it's a good choice for anyone who wants to get more control over their happiness daily. There's also a separate app for kids with a how-to guide on how younger people can meditate.
Another bonus about this app is that if you download the premium version, you'll also be supporting the non-profit, Tools for Peace.
6. Daylio
Available on: Android and iPhone
Daylio is a journaling app, which sets it apart from some of the other happiness apps included on this list. Instead of guiding you through meditation, or providing helpful yoga videos, Daylio asks you to become more mindful with journaling.
This award-winning mood-tracking app helps you to record your emotions by choosing videos and images that suit how you feel. Daylio features a calendar and statistics tool that helps you to record your attitude and emotions every day, so you can determine how patterns emerge in your attitude.

Try these happiness apps to improve your mental wellness.
You can also include notes about your moods, so you have a broader view of what's going on in your life. Other features of the app include reminders, monthly and year statistics, and more.
If you're struggling to figure out what's going on in your head, and which trends lead to specific feelings, Daylio can help you to get a better grasp on your emotional wellness.
Make the Most of Your Smartphone
Sometimes, our smart devices can be detrimental to our health.
They lead to things like addiction and stress, leaving some people to think that the best way to protect themselves is just to sell their devices.
However, your tech doesn't have to be a bane on your mental health. Used correctly, it can be a valuable tool that you can use to improve mindfulness and mental wellbeing. All you need to do is figure out which apps you're going to use to protect your mind and your emotions.
During difficult times, it's important to give yourself as much support as possible. Which apps will you be using to cultivate happiness in 2020? Let us know in the comments or join the conversation on social media.