We've all done it. You reach into your back pocket to grab your iPhone… Splat! Just like that, you drop it!
Now you're looking at an ugly screen, and that's just the tip of the iceberg.
You see, when you drop your phone on concrete, you can damage internal components. Things like the mute switch, or the microphone, or even the Wifi receiver can get damaged.
Not good.
It doesn't help that you live in Toronto, a city filled with beautiful parks but also plenty of concrete. But don't despair. When disaster strikes, your good ol' iPhone repair stores of Toronto are here to help.
What to Know About iPhone Repair Stores in Toronto
So you've got yourself a broken iPhone, and you want to know how to repair it. It makes sense. The cost of new iPhones is ridiculously high, especially for Canadians.
But there's good news.
You may not need to shell out thousands of dollars on a new iPhone. Instead, you can get it repaired right here in Toronto. Best of all, you can get professionals to do the work, so you end up with a device that works like new.
First, you need to find the right repair shop. Your handy uncle with his iFixit kit isn't going to get the job done. For the 6s and older models, you could use an iFixit guide and repair it yourself.
We don't recommend trying this for models after the 6s since they have become increasingly intricate works of art. Honestly, these devices are engineering marvels.
What you need are pros who are trained and backed up by satisfied customers. Let's take a look at some details you need to know before you start your search.
Is it Worth Repairing Your iPhone?
In most cases, you are making the smart choice repairing vs buying a new device since repair costs rarely outweigh the price of a new device.
But newer iPhones are different.
If you cracked the screen on one of these puppies, you'll have a massive bill. Apple got with the times and switched to OLED screens on the iPhone X and models after it.
The exception is the iPhone XR which still has a relatively affordable cost for parts.
If you have a cracked screen, use this flowchart to help you decide whether it is cost-effective to repair your iPhone.
Can you trust third-party repair shops?
The first question you probably have is "Can I trust third-party repair shops?"
Yes!
You can trust most third-party repair shops. The majority of them know what they're doing when it comes to iPhone repair in Toronto.
They have plenty of experience
Many are certified by Apple
They have the right equipment
They depend entirely on satisfied customers. Word of mouth travels fast in Toronto, so charlatans don't last long.
Will third-party repairs void your iPhone's warranty?
Another question a lot of people have is whether or not third-party repairs will void their warranty. There's good news and bad news.
First, the good news.
Since 2017, Apple has allowed in-warranty third-party repairs on broken screens. So if you've cracked that beautiful iPhone display, you can get it repaired at a third-party shop and your phone will still be covered by any remaining warranty. That includes AppleCare+.
But there's a catch, and that's the bad news.
Actually, there are a couple of catches. For starters, if the repair shop causes any damage, then your warranty is void. And don't forget that this policy covers the screen only. Any other components need to be fixed by Apple or your warranty is void.
Is Right to Repair Coming to Canada?
Have you heard of "Right to Repair?" It's pretty simple. Basically, it's a proposed law that would stop manufacturers from forcing you to only use their repair technicians.
Under Right to Repair, you could use any repair technician you wanted without expensive penalties (like voiding your warranty).
Can this really be true?
You bet! And in March of 2019, Ontario MPP Michael Coteau introduced a private member's bill at Queen's Park to allow Right to Repair in Ontario. It's not here yet, but the ball is moving in the right direction.
What to Look for in a Repair Shop
By now you're probably wondering what to look for in a third-party repair shop. After all, you need to get your iPhone fixed!
Everything comes down to three key factors: Professionalism, experience, and customer reviews.
Professionalism
The first thing you should look for is the professionalism of the people making the repairs. When you take your car into the shop, you like to see professionals ready to fix things. The same applies to your iPhone.
Of course, uniforms and personal hygiene are helpful, but it mostly comes down to the attitude of the repair technician. If they're smoking cigarettes and swear a lot, then you may want to pass.
On the other hand, spot the professional smartphone technician by their work desk. Do they have a magnifying glass or microscope? Notice any tools smartly laid out on the desk or mounted on the wall?
Ask this, what are your first impressions? Then go with your gut.
Experience
The second thing you want to look out for is how established the company is. There are plenty of fly-by-night shops in Toronto. That's part of the beauty and fun of this city. But when it comes to your iPhone you want a shop that you can depend on.
Look for businesses that have served the community for a few years at least. The longer they've been in business, the better. How far back do their Google reviews go?
Customer reviews
Lastly, check out customer reviews. These will tell you a lot about a business.
But wait a moment.
Just because a business has a couple of bad reviews doesn't mean the business is bad.
Remember, some customers can't be satisfied no matter how the business performs.
Instead, weigh the positive reviews against the negative reviews, and take into account how positive or negative the reviews are.
You get the idea.
The Best iPhone Repair in Toronto
Just think: in a day or two, you could have your beautiful but smashed iPhone back in perfect order again. Nobody will know the difference. And you'll breathe easier knowing your phone is fixed.
To help you get there, we dug up the best places for iPhone repair in Toronto. Let's dive in.
1: Cell Phone Repair
The name of the company says it all. Cell Phone Repair, also known as CPR, is one of the best places for iPhone repair in Toronto. They're a big company based in Florida, and they've been around since 1997. They've got the experience and the professionalism you need.
Customers love them too. CPR Toronto received 4.3 out of 5 stars on Google reviews. Most people had nothing but praise for this shop.

Location
3200 Dufferin St Unit 14B
North York (north of Dufferin and Lawrence)
2: iRepair
When you want to repair an iPhone, you can't get any more concise than iRepair. The company is a Toronto success story.
Get this.
iRepair started out as a mail-order repair service in Toronto in 2004. Today they have five physical shops in the GTA and one in Vancouver! And on Google, customers gave them 4.4 out of 5 stars, with the overwhelming majority of reviewers saying they were happy. People praised the professionalism and friendliness of the staff in particular.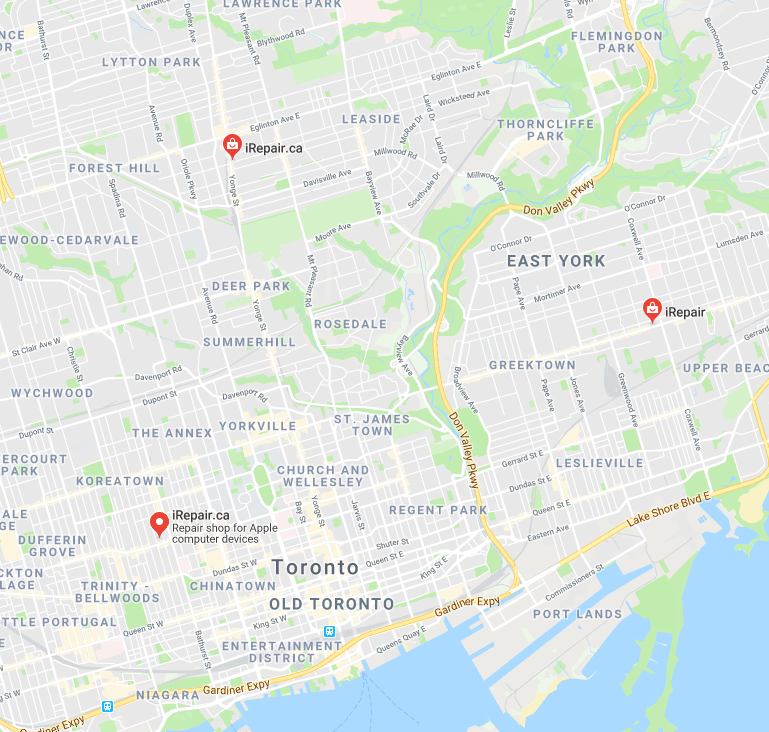 Locations
2109 Yonge St (Yonge and Hillsdale)
494 College St (College and Palmerston Blvd)
1517 Danforth Ave (Danforth and Rhodes Ave)
2325 Hurontario St, Unit 11
Mississauga (Queensway and Hurontario)
3: Mobile Klinik
Next up is Mobile Klinik. You may have seen their stores in malls across the GTA, including Dundas Square and the Eaton Centre. They've got that smiling uniformed ready-to-serve look down pat. They've also been around since they opened their first store in Ottawa five years ago.
Their Google reviews are sitting pretty at 4.8 out of 5 stars.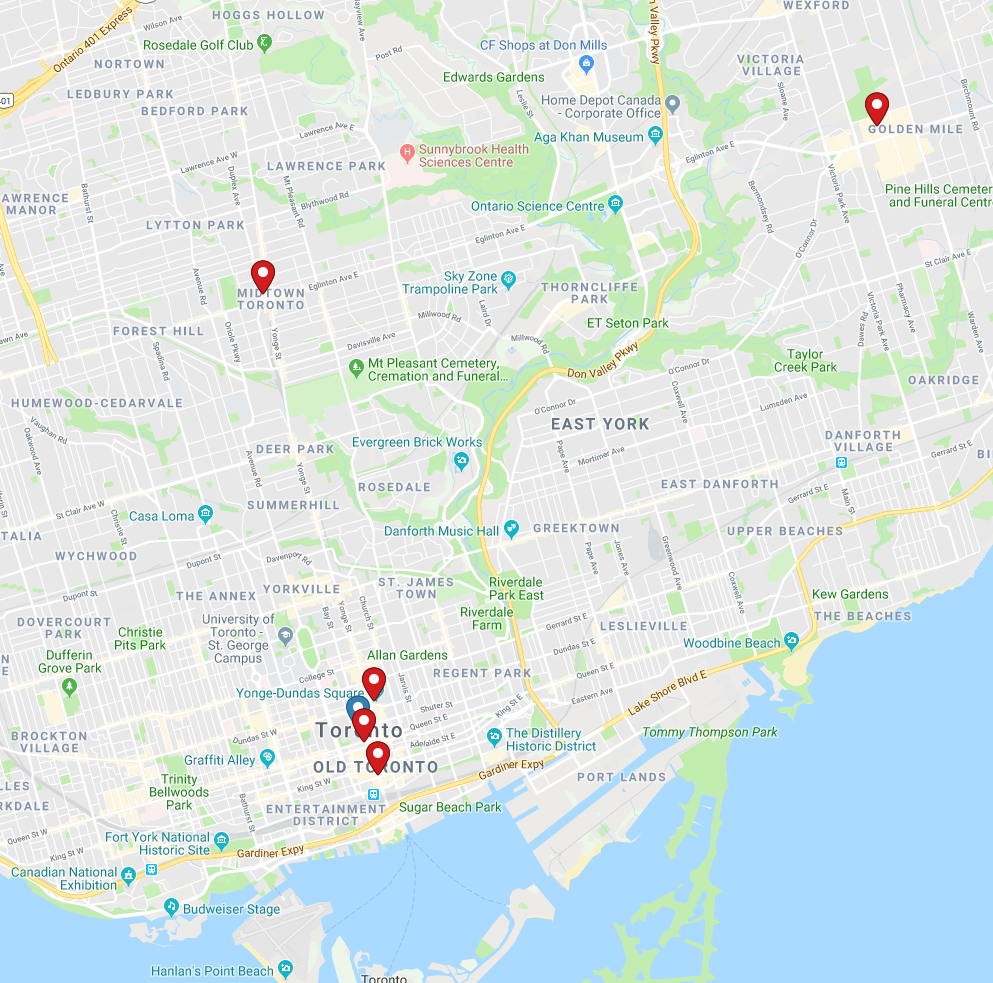 Locations
65 Queen St W (Queen and Elgin)
10 Dundas St East (Yonge and Dundas)
199 Bay St (Bay and Slater)
2300 Yonge St (Yonge and Eglinton)
4841 Yonge St (Yonge and Sheppard)
4: The Fone Guys
The Fone Guys have several locations across the GTA, including Mississauga and Scarborough. Best of all, they've got 20 years of experience. They even appeared on Dragon's Den!
What's neat about The Fone Guys is the technician will come to you to pick up your broken phone.
Then, when it's fixed, they'll deliver it right to your door. Easy!
Customers gave them a perfect 5.0 out of 5 stars on Google.
These guys don't have a physical address, but they cover the entire GTA.
5: Fixt Wireless Repair
Next up is Fixt Wireless Repair, one of the most upbeat companies for Apple iPhone repair in Toronto. Seriously, one look at their website and you feel all warm inside.
They're a Toronto staple who not only do iPhone repair and Android repair, but they also sell refurbished phones.
One thing you'll love about Fixt is that they guarantee the parts they use for life. Wow!
You can find them in Toronto, Mississauga, and even Burlington if that's your thing.
Locations
1875 Leslie St, Unit 4
North York (near York Mills Rd and Leslie St)
499 Bloor St W (corner of Brunswick Ave and Bloor)
777 Bay St – Concourse Level
Unit M207A (Bay and College)
275 Danforth Ave (east of Danforth and Broadview)
6: Jump Plus
The sixth best Apple repair store in Toronto is Jump Plus. Not only is Jump Plus a quality iPhone repair store in Toronto, but they're also one of the only Apple Certified resellers in Canada.
That is, they operate their own version of the Apple Store. So you can buy iPhones and Macs and iPads brand new, and get AppleCare+ as well.
When it comes to iPhone repairs, Jump Plus uses all Apple-supplied gear. They can diagnose your phone, and connect directly to Apple's own servers to pull up your customer information.
The best part? If you're not directly in Toronto, Jump Plus has you covered. That's because they are all over the 905 and even in Guelph and Kingston!
They get a decent 3.9 out of 5 stars on Google reviews.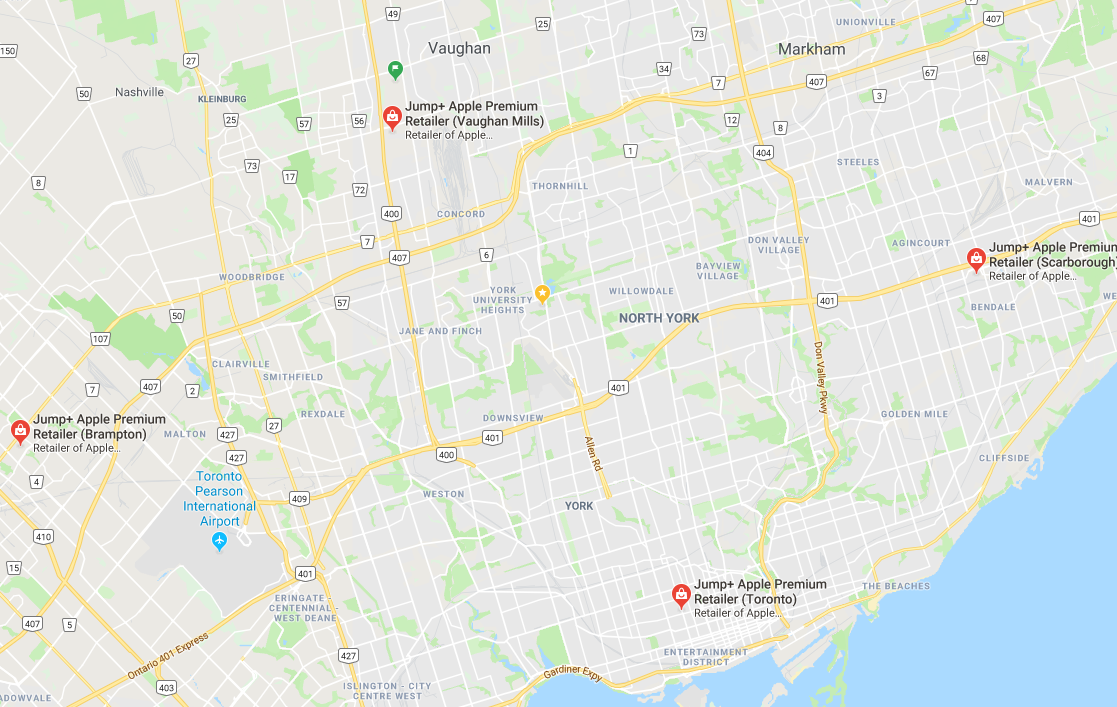 Location in Toronto
275 College St (College and Spadina)
7: Ask Computers
Finally, you can take your phone to Ask Computers for a quick and dependable iPhone repair in Toronto. Although Ask Computers only sports one shop, they handle every type of damage imaginable.
Water damage? No problem. Need a new battery? They got you covered. Screen destroyed? Easy!
But they also service Android, MacBooks, PC computers, tablets, and logic boards.
They can do phone unlocking too. Also, they sell refurbished phones and computers. They're your one-stop-computer-shop.
Customers love them, giving Ask Computers a whopping 4.8 out of 5 stars on Google.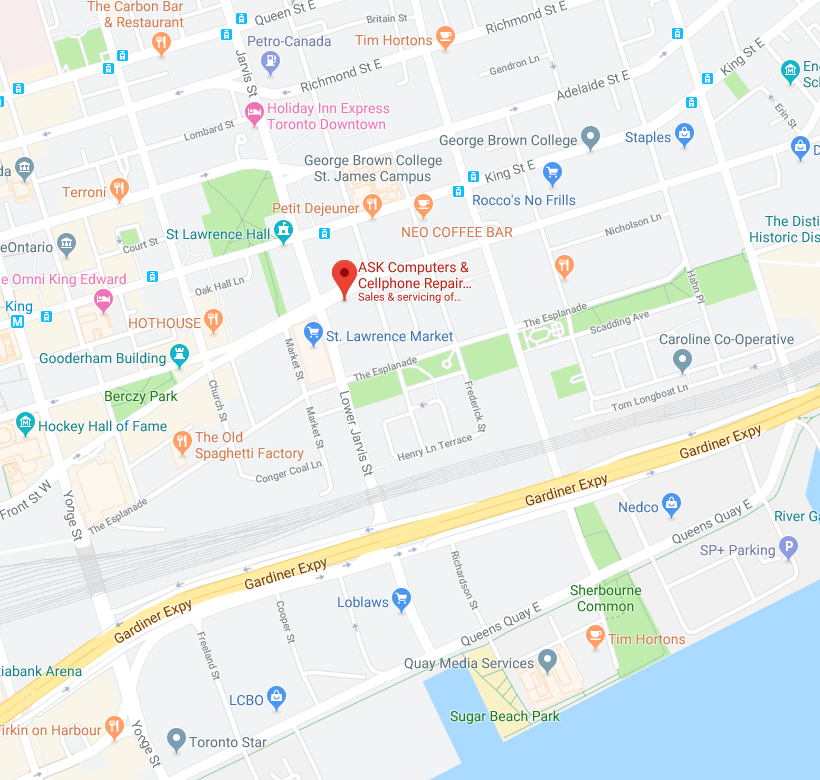 Location
111 Front St East (Front and Lower Jarvis)
When It's Time for a New Phone
There you have it. The best iPhone repair in Toronto. Choose any one of these shops for quality, timely, and professional repairs. You won't be disappointed.
But sometimes your phone can't be saved. Maybe it's time to upgrade anyway, or you want to see what things on the Android side of the fence are like (hint: they're great). In that case, you won't need to worry about repairing your iPhone.
But what do you do with it?
Simple! Trade-in your broken iPhone with us. We'll give you a cash offer! If you like what we have to say, ship it to us completely free and get paid.
Easy!
Did we miss your favorite store? Have any recommendations for others? Let everyone know in the comments.